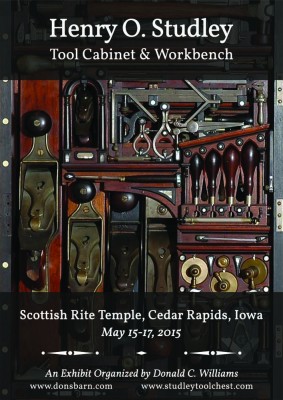 Last Saturday was the Spring meeting of the Chesapeake Chapter of the Society of American Period Furniture Makers.  During the Show-and-Tell I provided an update on the HO Studley Tool Cabinet Exhibit, which is now only 53 weeks away.  There seemed to be pretty keen interest, and many of those in attendance were already crunching their calendars and check books to figure out how to make it to the toolapalooza weekend in eastern Iowa.

I included three or four images of the host venue, the very classy Scottish Rite Temple in Cedar Rapids, Iowa.  Believe me, when you see and experience the exhibit yourself, you will agree with me that it is the perfect venue.
If I can pull together an opening event on Thursday night, it will be in the auditorium with the ensemble in attendance on-stage.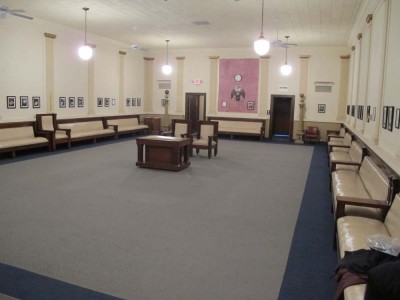 The exhibit itself will be in this elegant room in the facility — complete with dramatic staging and lighting — and over the past two Saturdays I have received much encouragement  and feedback and will now pursue some augmented components for the exhibit.  Stay tuned.
After that I was able to introduce my Roubo compatriot Michel Pagan to the audience, and lotsa well-deserved love was heaped on her.  Chris Schwarz blogged about that here.
Bert Bleckwenn offered an impassioned tribute to the project, about how it was part of the fabric of knowledge that was simply unavailable when he and I started woodworking 45 years ago.  Michele and I were very much moved by your remarks, Bert, and our only regret is that Rouboista #3 Philippe Lafargue was unable to hear them in person.  Believe me, the heartfelt appreciation on your side of the equation is matched by the passionate commitment on this side.