The Gragg chair is more like a sculptural assemblage of curvy parts in space and at several points in shaping the chair components there is only one tool type to suffice for the task, namely the rasp.  Or in my case, a few rasps and similar tools like floats.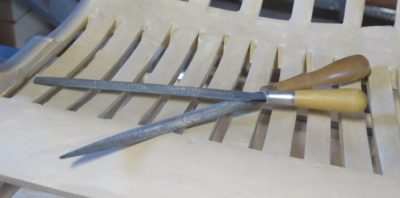 I generally include four tools in this category; an Ariou cabinetmaker's 10″ rasp (or its analog a Nicholson #50 patternmaker's rasp),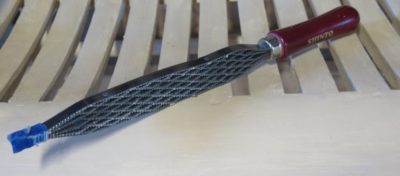 a Shinto rasp, and a pair of fine Iwasaki floats, both flat and half-round.  In procedural order the processes requiring them are as follows.  Sorry about there being no picture but I could not find one in my compewder.  They're there, I just cannot find them.
First is the touch up of the diminutive tenons for the rungs when the side units are assembled.  This is necessary only when the tenons are cut too full and need to be nibbled down to fit the mortises.  Generally I accomplish this task with either the Shinto rasp, if there a a fair bit to remove, or the flat Iwasaki float or small Ariou rasp if just a little.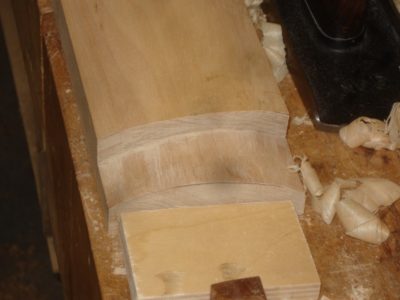 Once the assembly of the cross elements begins I tend to concentrate on the front seat rail, letting the rear seat rail and the crest rail dimensions be established with tacking strips.  For the front seat rail the rasp is critical for two distinct steps.  First the curved surface of the end lap joints must be shaped to fit the underside of the serpentine leg element.  Though most of this step is accomplished with a saw and  chisel, the final fitting is fastest with the Shinto rasp.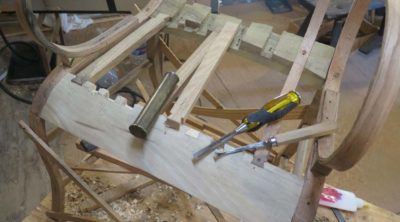 Then, once the stock is fitted and affixed in place I remove the most of the square shoulders of the excess with a block plane but the configuration of space and the element means that the heavy lifting for roughing the shape (and the embedded half-blind dovetailed seat slats) falls to the rasp.
Fitting the crest rail to the tops of the serpentine pieces is a mix of saw and Shinto rasp, but the actual sculpting of the crest rail shape is accomplished through a combination of spokeshaves and the Ariou rasp, followed up with the pair of Iawsakis to get a surface ready to paint.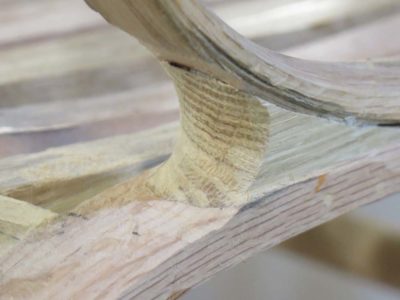 The final place for rasp work is both a "mere detail" and an elegant hallmark of a Gragg chair, the rounded glue block underneath the front of the curved arm and the meta-volute at the bottom terminus of the arm.  With the Ariou rasp I can usually cut these shapes into the square-ish stock in about 5-10 minutes.