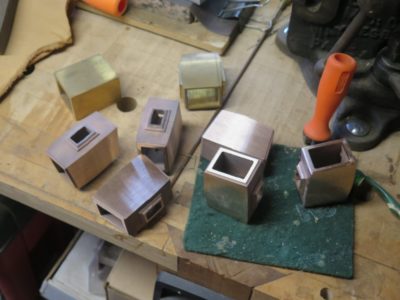 I was recently alerted to the ongoing project by foundryman Bill Martley to replicate the shell castings for the beloved mallet of Henry O. Studley.  Well, beloved to me at least.  Bill and I corresponded and I ordered the raw castings in his original alloy, a red-ish bronze.  You can tell the coloration difference between Bill's castings and the brass shells I have worked on in the past.
The castings are quite nice and I am working through finishing them to make myself a mallet or six.  The amazing thing is that Bill got the pattern really close to the original, without even having access to the Studley book!  He said he was relying on pictures I posted on this blog.  I sent him a copy of the book as part of our transaction, so he can move forward with the definitive information in-hand.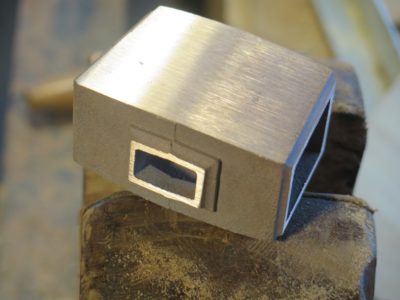 Bill has been selling these rough castings through his Instagram page, mystic_pickers.  If you are interested in acquiring one of the rough castings from Bill you can contact him directly through the Instagram page.  If there are hiccups let me know and I will check with him to see if he wants me to post his contact information here.
Since the color of the alloy is wrong for me I have ordered two addition sets of castings from Bill with yellower alloys to see how they look and work.
At the same time I have been tinkering with my patterns for casting the mallet shells myself, just because.  (I am determined that 2021 will be a year of metal casting at The Barn with several projects in the pipeline)  Once I get the patterns to a point where I am satisfied I will cast them in both silicon bronze and brass in the barn.  Since I have the detailed information based on my many examinations and with the blessing of Mister Stewart I am confident that the end point will be successfully achieved.  (Let's just keep it between ourselves, but my ultimate goal is to have finished "authorized" mallet replicas for sale at Handworks 2021.)
I'll be recounting the project from my end as things proceed and I hope you will enjoy the ride.