With the encouragement of Tom Fidgen's presentations at WIA and elsewhere I decided to make an attempt at a kerfing plane.  His enthusiasm and evangelism for this tool has once again revitalized an older form from days of yore and integrates it into our toolboxes now.  Huzzahs, Tom!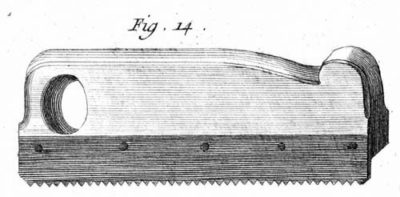 This tool from Roubo pretty much validates the utility of the tool.  Being a smart guy like Roubo, Tom re-devised a tool without the knowledge of the master's work from 2-1/2 centuries ago.  Fidgen & Roubo — creative geniuses separated by 250 years.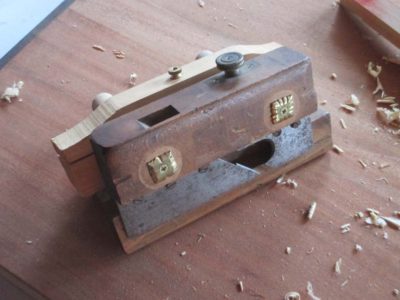 Since the iron and especially the skate of the plow plane serves an analogous function as the blade of a kerfing plane, cannibalizing a decrepit one from my junk drawer seemed to be the right place to start.  I'd already added new arms and fittings for the fence at some point the misty past.
I removed the skate and found a near perfect bed to affix a rip saw blade section.
Using a piece from a bow saw blade I bought at Highland Hardware and cut with metal snips and a scrap of brass stock from the scrap drawer I charged forward.  (Actually I mighta charged a little too fast; I fited and drilled the blade and retaining bar with the blade running in the wrong direction.  Sigh.  Still it worked surprisingly well, but in the end I made a new blade and bar.)
The assembly was pretty straightforward, although drilling through the saw blade was a bit of an adventure.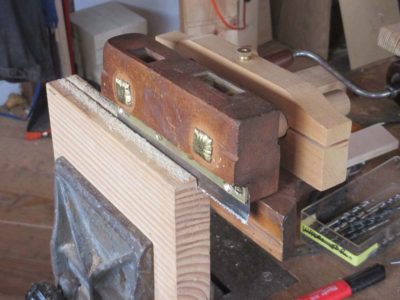 It was time to give this cobbled-together tool a test drive.  Magnifique!
But I was not done yet.