On my recent jaunt through The Heartland I stopped to visit my old friend RickP in northwest Arkansas, and got to see in person the amazing table Rick researched over a two decade stretch and constructed from around 2010-2013.
The original table, shown above, was excavated from the c. 800 B.C. archaeological site of Gordion, Turkey.
The table is a tour de force of design and fabrication, and one of the most astounding examples of contemporary woodworking I have encountered.  While the design might be almost three thousand years old, the fabrication is obviously contemporary, as Rick is gladly still with us and approximately my vintage.  The detailing on this table is simply eye-popping.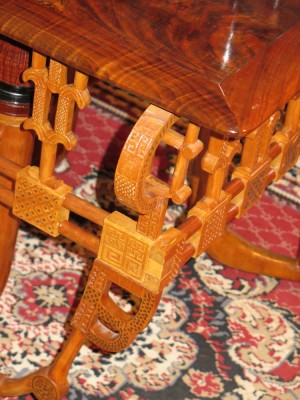 To me the most compelling overall design feature is the means by which the original builder three millenia ago figured out how to make a four legged table compatible with what was probably an uneven, perhaps even dirt, floor.  What they did, both the original maker and Rick, I mean, was to combine two of the legs into one foot, in essence turning the four legged table, which would always be a problem on an uneven floor, into a three legged table, which would never be unsteady.
The original table was constructed of boxwood, if I recall correctly, while Rick used ancient kauri wood for the base and walnut for the top.  In keeping with the flavor of the wood, Rick used kauri copal resin as the finish, employing a varnish component far more ancient than even the original table.
Rick just sent me a copy of the paper he presented at the American Institute for Conservation Annual Meeting two years ago, where I was part of a presentation at another session of that meeting even though our paths did not cross there.  Rick's paper will be available at some point at the archive for the papers from the Wooden Artifact Group of the AIC, and I hope in the meantime that Rick can someday get it into the more popular woodworking literary world.
I mean, who wouldn't be fascinated by the prospect of replicating King Midas' table?  I know there are features of the table informing my future furniture-making designs.