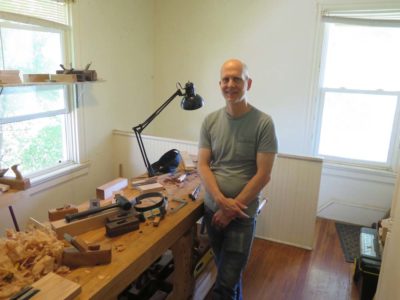 Last week en route home from Mordor on the Potomac I had the good fortune to visit Steve Voigt, music composition professor by day, planemaker by night.  I became acquainted with Steve in the past couple of years and have come to enjoy immensely his company and his passion as a gifted craftsman fashioning wooden bodied planes in the style of 18th Century English hand planes.  At one point in his life Steve was a skilled machinist and that attention to detail has carried over into this new chapter of life, in part teaching students how to construct music and also providing us with exquisite tools to construct furniture.
We spent a couple of delightful hours discussing woodworking in his charming, spare, beautifully bright garret studio above the kitchen of his (and the lovely and delightful Mrs. Steve's) house.  Tell me those windows and the light accompanying them does not instill some jealousy.  Go ahead.
I continued my admiration of his products, and noted with anticipation some new items coming to his inventory soon.  We also discussed the possibility of him making some custom tools for me soon.  Cross your fingers.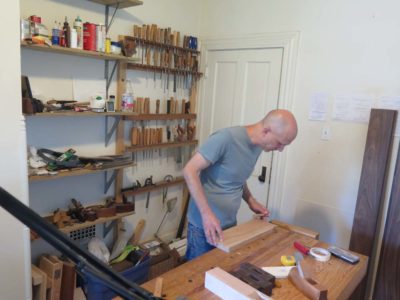 The money time was the hour or so spent with him demonstrating the method of setting up a double-iron plane to get the most superior results.  I know how to sharpen tools pretty darned well, but his tutorial on setting the second iron was an eye-opener to me.
Steve's first step confirmed his facility as a sharpener as he tuned up his iron in about 30 seconds.
Thus far I'd been setting my chip breaker around 1/25″ from the tip of the cutting iron but learned that my spacing was far too great, and the best setting is somewhere in the territory of .006″-.010″.  Steve sets the cap iron distance by eye, but he showed me a foolproof starter method for learning the process. First, rest the tip of the cutting iron on the bench, then lower the chip breaker down onto a .010″ feeler gauge leaf.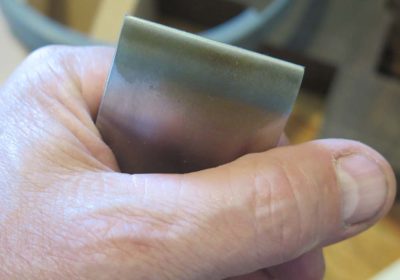 Then bring it home with the resultant spacing between the chip breaker and the cutting iron being nearly invisible.
Setting up the plane itself with eyes way better than mine, Steve showed me the results.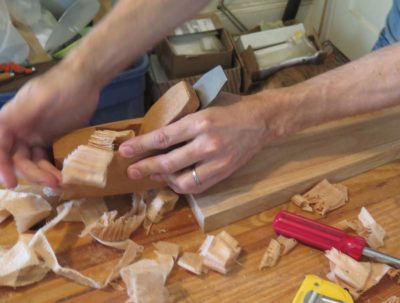 He explained that a properly sharpened and set double iron plane almost literally shoots the shaving out of the throat.  I was surprised that they did not curl, they were straight wisps of gossamer wood (this one was a bit heavy and rippled, but photographing him work is a challenge because his motions are so confident and rapid).
Who knew?  Well, not me!
Steve definitely gave me something to think about and aim for, which makes our time together invaluable.
Thanks Steve!