At almost the last minute I decided to attend the Lie-Nielsen event in Covington, in great part due to it being a sorta "release party" for With All the Precision Possible: Roubo on Furniture, (or simply "R2" for those of us living inside that particular bubble) which was arriving that very morning.  Also in the equation was the fun I always have at these gatherings.
The exhibitors at the event confirmed my premise that we are living in a Golden Age of tool making and woodworking.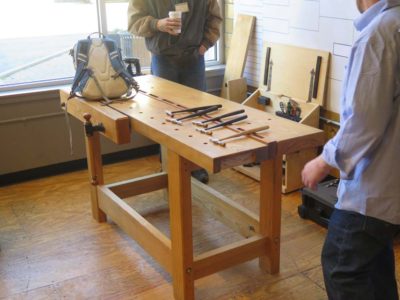 Beginning in the front corner window of the brew pub was Raney Nelson, plane maker extraordinaire and principal in Crucible Tools along with Chris Schwarz and John Hoffman.
Raney did have some of his planes in hand, but most interesting to me were these new plane-adjusting hammers he's been noodling lately (I came home with one).
Next to Raney was the space for Lost Art Press.  Since the second Roubo volume had arrived that very day, there was quite a bit of traffic.  It was the first time any of us had seen the book in the flesh, and Chris (and I) spent a fair bit of time browsing through it.  We are not displeased.
I used Chris' staked table, I think this was the one with the soap finish, as my station for signing all three of my LAP books and promoting and demonstrating polissoirs and beeswax finishes.
I had a lot of traffic from friends old (Studley book collaborator Narayan Nayar on the left) and new dropping by for a signature and some chat about old ways of finishing.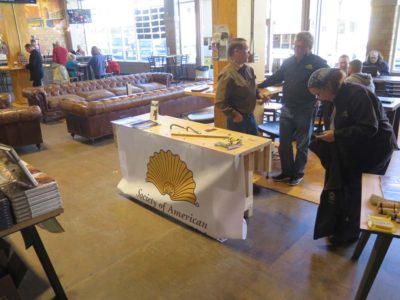 Directly opposite me was the work station for the Ohio River Valley chapter of the SAPFM as their workbench was humming with activity all weekend, extolling membership in SAPFM, an organization that is near and dear to my heart.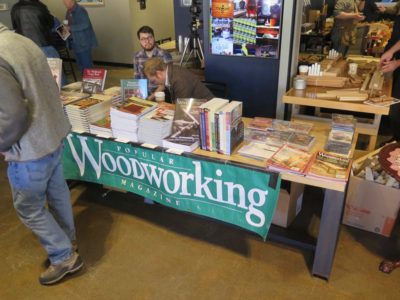 Rounding the corner was the large offering from Popular Woodworking with lots of books and videos, and opportunity to interact with Editor Megan Fitzpatrick and other PW/F&W staff, including video producer Jake Motz (in the beard and glasses) with whom I worked on two videos last year.
Turning into the bullpen at the center rear of the brew pub was Matt Bickford with a great selection of his molding planes and dozens of lumber blanks into which contours could be made.  Immediately adjoining Matt was Scott Meek, whose magnificent planes are both high performance tools and sculptural artworks.  Unfortunately I failed to get a decent picture of Mateo Panzica of Lazarus Tools who took his station between Scott and Steve.
Along the back wall was my almost neighbor  Steve Voight (he is a music professor in nearby Harrisonburg VA), whose traditional style beech bodied planes are a fairly new, and most welcomed, entry into this world.
Finally we come to the sainted patron for this and many more events of this type, Lie-Nielsen Tools.  Daneb Puchalski and the LNT crew are remarkable in their teamwork — imagine if you had to both coordinate the entire event and set up AND take down your display every day — and their welcoming of fellow craftsmen and toolmakers is a model of evangelism at its best.