Like a multitude of fellow craftsmen my interest in traditional woodworking was fostered by the book Make A Chair from a Tree by John D. Alexander, Jr.  I probably bought it shortly after it as written, then a few years later I also purchased the excellent companion video.  I cannot recall now if that video included some delightful bantering with saw maven Tom Law, or if it was Tom's video on saw sharpening that featured bantering with John Alexander.  Either way it was an engaging and delightful foray into learning.  (Actually one of my great curiosities is why the producers never made any more videos; their video with Tod Herrli is simply one of the best instructional videos I have ever seen on any topic.)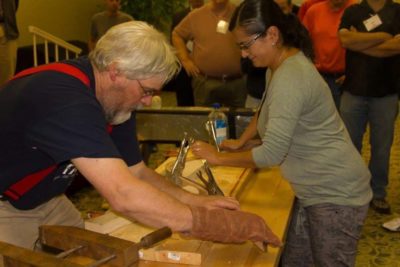 I never really became chair maker, my Gragg chair adventures notwithstanding, but the approach of thinking through then executing a project resonated with me.  Mr. Alexander's blend of historical understanding, winsome wit and practical craft applications served him well as an evangelist for the cause.
The chronicle of his entire journey is recounted here by the inestimable Kara.
I read recently of his death not too terribly far short of 90 years, and reflected on the transforming power of solid scholarship blended with infectious enthusiasm.  Our paths never crossed in person, but I offer my condolences to those who knew and loved him.