Through the first half day of the auction Thursday afternoon, there were several lots that went to the next highest bidder after I dropped out of the running.  I tend to be pretty disciplined about setting a bid ceiling and sticking to it.  I was beginning to suspect an Govcom conspiracy but thanks to Josh Clarke I was not being caught empty handed (I will detail the coolness of sitting alongside an active successful bidder tomorrow).
Friday morning at about 10.30 came the item I drove there to get, the Emmert Universal Benchtop Toolmakers Vise.  I'd looked it over carefully on Wednesday and Thursday (twice) and it was both a beast and a beauty.  Astonishingly, bidding started at $5, indicating there were no absentee (internet) bids.  I jumped in, hard.  At about $300 there was a lull and I could feel the thrill of victory rising in my chest.  Then another bidder jumped in and the price soon chased me off.  No, I did not win the bid, which was an out-the-door price of just under a grand.  The disappointment was bitter.
However, all was not lost as my friend Jon found a pristine sales brochure on that very tool out in the tailgating section and gifted it to me as a very nice consolation prize.  It was a truly thoughtful and generous gesture I will recall for a very long time.
I'll keep looking, but so far this tool has eluded my wallet.  If someday I find one in good condition for a fair price I will get it.  If not, not.
The patternmaker's chest also came and went above my limit.  At the end of the day I saw the buyer examining it and I congratulated him on it.  He knew nothing of the contents, and I spent several minutes explaining what each of the tools inside was.  In the end it was apparent he cared only for the chest, and I was only interested in the contents, or more specifically, the Buck patternmaker's chisels with the interchangeable handles, shafts, and gouges.
He offered the set to me for a very modest price, and in moments I had them in a box and was toting them off to show my friends.  These high-chrome steel chisels are made only for gentle pushing to finish the surfaces of wooden patterns for foundry work, and I now have a pretty complete set as these joined my previous acquisitions from years past.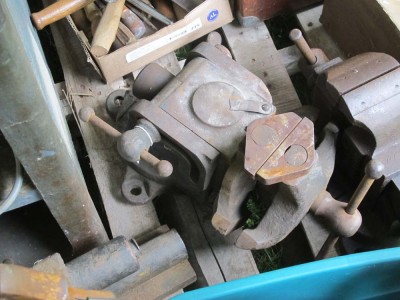 One last forlorn visit to say farewell to the Emmert on the buyer's pallet (he was buying A LOT) and then we headed for the line to the pig roast.  Roast pork is the near-perfect conclusion to almost any kind of day.
Tomorrow, finally some winning bids and horse trading with Josh.