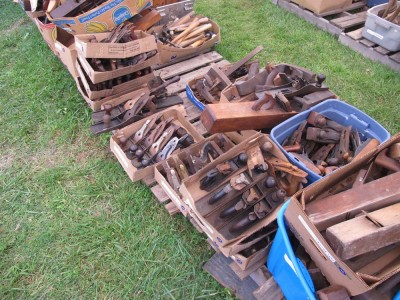 One of the highlights of the galoot's annual calendar is the warehouse-clearing summer sale by Martin Donnelly at his place in Avoca NY.  If you have never been, you should go for the experience if nothing else.  This auction of 3200 lots containing perhaps 75,000 tools is a place where tubs of tools exchange hands.
This year three lots drew me there.  First was an Emmert die-maker's bench vi$e which I have $ought to purchase for many year$, thi$ one wa$ I believe the large$t of the line (it wa$ approximately the $ize of a bu$hel ba$ket).  Next was a Veritas MkII sharpening unit, essentially new in the box, and third was a craftsman-built patternmaker's chest with tools.  More about them tomorrow.
The tools weren't the most important things, though, that would be the fellowship with tool comrades including my long time pal Mike who dropped out at the last minute because of an inflamed sciatic nerve that was so bad he could not sit in a car to drive it there.
Instead I had the good fortune to sit next to Josh Clark, purveyor of the vintage tools through his wonderful site.  There are many people in the tool world, most of them a pleasure to deal with, and certainly Josh fits this description.  He is simply aces.
I was also joined by another long time friend Jersey Jon who was making his first foray to this auction.  He was nearly overcome with the shock of seeing tent after tent filled with fully loaded tables and hundreds, no, thousands, of tools to rifle through and gawk at.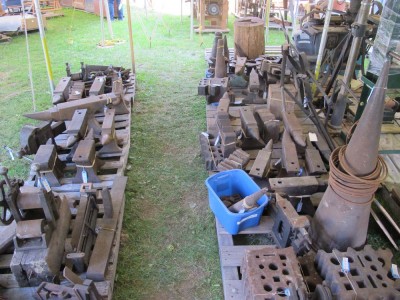 If you were in the market for anvils and swage blocks, this was the auction for you.  I almost wish I was in the market, as the prices turned out to be dirt cheap.
The tale continues tomorrow.