Armed with the knowledge and experience of recent attempts at making gelatin molds for plaster castings I charged forward with some new modifications to the formulation of the gelatin.
In this iteration I used the following recipe:
1 part 135 gws glue (dry granules)
1 part water, soaked overnight and cooked twice
3% glycerin
3% gelatin hardener
0.5% borate preservative
*Note: it is important to actually record the weight of the dry glue granules as the other additives are based on that number.*
Once the glue was well-cooked I added 3% glycerin and 35 of the hardener.  These numbers were based on the dry weight of the granules, in other words for 200 grams of glue granules I added ex poste 6 grams of glycerin and 6 grams of hardener.  I then added 1 gram (0.5%) of borate complex powder as a fungicide to extend the lifespan of the mold itself (not borax from the hardware store).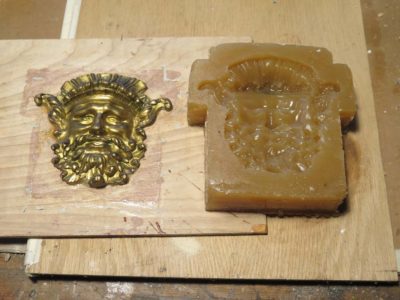 The working properties of the gelatin mold were excellent, although the time required for it to lose the requisite moisture  to become robust enough to use as a mold took longer than I expected.  I waiting a day before demolding from the pattern, two days would have been better.  But the resulting mold was extremely tough and utilitarian.
I cast plaster into the mold and demolded that the following day. Like the original demolding, longer would have been better.  Next time I will try 36 hours rather than~20.
The plaster casting was still pretty green since it took so long to slough off the water, so I placed it into a desiccation chamber to draw out the water.
The mold itself was placed into a sealed kitchen container with a damp sponge to maintain the water content of the mold, and thus its viability as a flexible and functioning plaster mold.
After three weeks I checked the mold and found a little bit of surface mold.  This was a useful observation.  The initial mold from many moons ago was a lump of goo after two weeks, this was still sort of viable after three.  I think next time I will jump the borate salt content to 0.75% or even 1.0% to see the result.
All in all I was very pleased with the progress being made, both conceptually and practically.
Stay tuned.