One of the wondrous (?) things about moving after almost  thirty years in the same house and with the same job is to "rediscover" treasures you squirreled away for some future day. Well, that day has come.
One of the treasures I acquired in the distant past was this Anglo-Indian lap desk, with ivory and sadeli parquetry on a yellow sandalwood base.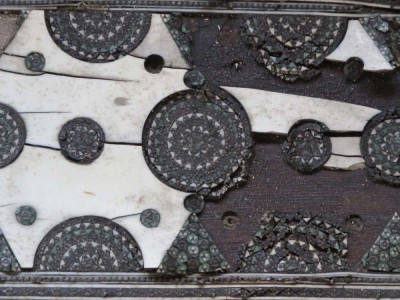 I bought it for a song because the antique dealer had absolutely no idea how to restore it, and fortunately I do.  The "secret sauce" adhesive technology revolves around road tar.  Yup, asphalt was the original adhesive laying down all these tens of thousands of bits, and I expect I will use it again.  I can practically sense the wide smiles on the faces of two dear friends, "Czar of Tar" AlanN and finisher extraordinaire DaveR, two earnest evangelists for asphaltum.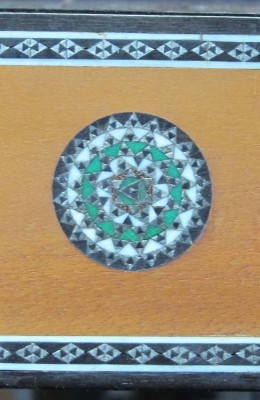 This detail is of a medallion about the size of a nickel.
Now to somehow figure out how to work its restoration into the schedule…