Perhaps I should call this series, "Fun with scrap wood" as many of the projects are derived from the piles of leftover wood laying around the barn.  Such is the case with this one.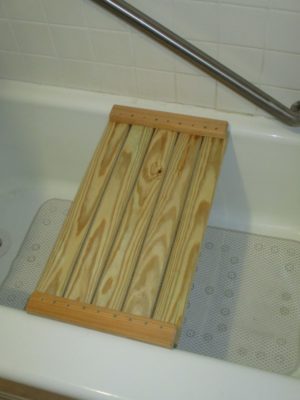 Using pressure treated southern yellow pine and some cypress boards I fashioned this movable/removable shower seat for the bath tub.  I hand planed all the boards before assembling them with decking screws.  The seat slats are cut to fit between the bathtub walls and screwed to underlying battens, and top end elements perpendicular to them to rest on top of the tub walls.
I planed chamfers on the tops of all the seat slats, thinking it would eliminate any discomfort while sitting and taking a shower.  That has not worked out so well as the corners still press hard against flesh; I may go back in and round the upper chamfer corners.
Otherwise, the bench works perfectly.  I will keep an eye on the top piece to see if cracks appear along the screw line.  If so I will have to retool it.  But for now, when I need it I can grab if from the space behind the hamper, and when finished I put it back.