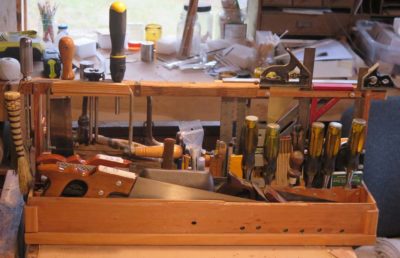 For almost three decades my "traveling" tool kit has been a crude open tote box, sufficing for innumerable projects ranging from remodeling or maintaining the house, building various accouterments for the yard and garden, on-site furniture restoration, and, for the past few years, the much vaunted French Oak Roubo Project wherein mid-18th Century style workbenches are built from some of the most amazing slabs of wood you are ever liable to encounter.  I'm not building a bench but bringing my tools anyway, you never know what someone might need.
I cannot even remember why I made this box, it's more of a tray with a handle actually, but once again I loaded it up for the upcoming trek to Georgia.  In so doing I was struck by the sheer volume of tools I could fit into it.  Fully loaded it weighed in at 56 pounds.

I'll recount the inventory in the coming days.  I'm sure that once again after FORP III I will tinker with the layout.