Today I wrapped up (mostly) three of the "rubbed through" boxes and have put two to work to hold some of my smaller Gragg sculpting tools.
This one is black-over-red.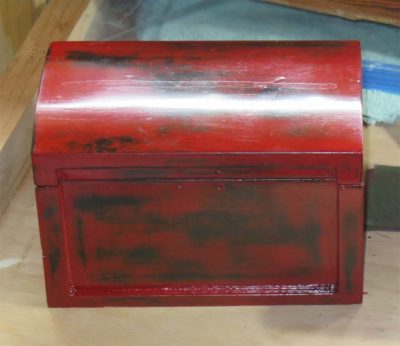 This one is red-over-black.
I did both of these with pigmented shellac with lemon shellac as the film forming component.  I added Bone Black and Vermillion Red powders to taste, then three or four clear coats over the top after composing the pattern with wet sanding.  Since these will get jostled at least if not outright "beat up" I have no plans to bring them to a mirror surface.  I might rub them out with some Liberon steel wool and Mel's Wax once the surfaces get really hard in a few weeks.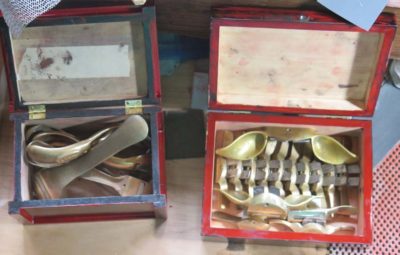 It is nice to have most of my smallest brass spokeshaves in the same box.  I bought four sets of the ones offered by many tool merchants 35(?) years ago and am delighted to have them on hand.  With duplicate sets I have total freedom to modify them as needed.  These tiny tools are amazingly productive but it takes strong finger tips and a good "feel" for using them.  Fortunately Mrs. Barn lets me massage her feet for a couple hours most evenings so my hands are up to the challenge.