The first stop on my grand tour of New England was in southern Rhode Island, where AlanJ was patiently restoring a recently acquired piano-maker's bench with two similar vises, one configured for the face position on the bench, the other for use as an end vise.  I first became aware of this bench many months ago when a friend notified me of its presence on Ebay (this photo of the bench with red-handled vises was from the original listing).  Jameel Abraham and I discussed at length the possibility of purchasing this bench, but in the end we dithered long enough for Alan to purchase it before we could make up our minds.
Alan's new (to him) bench has an iron clad provenance, purchased from the descendents of a known piano maker and a documented home base of the Emerson Piano Company of Boston, along with some notable similarities to Henry Studley's workbench (pictured here).
He has even begun to compile historical research about the piano maker, which warms my heart.   After my tracking him down, Alan has been nothing but generous with images and background information.  With his invitation in hand I headed north from The Peoples' Republic of Maryland with Rhode Island as the home to the first of a half dozen vises I would study on this trip.
The bench itself was so similar to Henry Studley's workbench that it is nearly inconceivable to me that the makers of these two benches were not working from the same playbook.  The top of Alan's bench is a surface of two magnificent planks of Cuban Mahogany — hard, dense, and beautifully figured.  These 5/4 planks are laminated onto a 3" core of white oak.  Altogether they weigh about three hundred pounds.  Add the two 80-pound vises and you are up to almost 450 pounds.  Studley's bench is made of solid Cuban mahogany, but glued up from five slabs.  The edges and corners of this bench are an ebonized oak strips about ½" square, while Studley used actual ebony.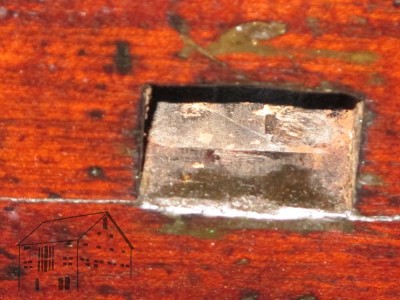 The dog holes on Alan's bench are actually mortises chopped directly through the entire slab, while Studley's are blocks in a glued construction method.
The vises of this bench were of the correct form and general configuration; a unified casting of the face jaw and the sliding platform "way," a generous 9-1/4" wheel handle driving a twin-lead 1-1/8' x 3 tpi Acme screw for fast, smooth action with a robust clamping when engaged.  The face vise opens about 16", which is emerging as a standard dimension for these vises.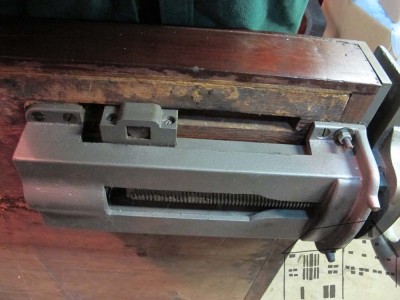 The tail vise has a collar affixed to the sliding "drawer" which allows for a dog to project up through the top.
The base is similar in concept to the base that came on a bench I bought last summer in that it is clearly a "knock-down" cabinet that was ordered from a commercial vendor (note the four connecting bolt), and the top was made to fit this base.  Studley's base was long lost, and the current owner of the Studley bench fabricated a new one based on the shadows on the underside of the bench top and the aesthetic details of the tool cabinet.
All in all a magnificent start to the trip, and I look forward to Alan's reports of his ongoing restoration of the bench and vises, which now have a pewter-ish appearance.  I hope to get back to re-visit the restored bench next fall.
Thanks Alan!