I believe that in some (many?) craft cultures it is a New Year's tradition to bring all of the components of the tool kit up to snuff.  For the past several years, at least since relocating to Shangri-la, I have been dong some of the same thing and will spend this week so engaged.  Throughout the year I toss everything that needs major rehab into a box on the shelf awaiting the beginning of the year for attention.  Obviously this would not include anything truly critical to ongoing activities, that would be dealt with immediately by necessity.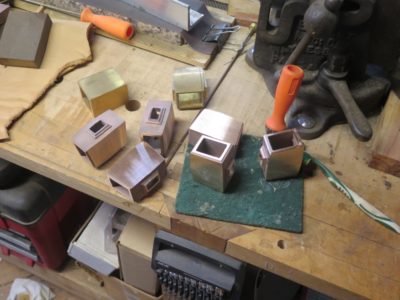 This year there is an equal proportion of tools-to-be-made compared to tools needing a tune-up.  This includes a batch of infill mallet heads I sourced recently, another plow plane iron re-purposing, a new (to me) iron to be fitted into my infill smoother and a new wedge made for it, a new tool holder for my patternmakers' gouges, and some tools being transformed from one thing into another like some gouges I bought for the explicit intent of turning them from out-cannel into in-cannel, etc.
And of course, this is a week that gives freedom to my "re-arrangeritis" impulses, not that I have much restraint in that area to start with..
It is going to be a very fun week in the shop.