The final 90 minutes of construction for the Nicholson was to finish the legs and top.  It was all easy enough to do.
I wanted to get the top planks on first, and to do that I needed to achieve a crisp, straight edges for the center joint.  Were my big table saw or jointer up and running I would have simply run them through one of them to remove the rounded edge, but I have not yet installed those outlets in the basement shop (and have learned to live without those machines for more than four years).  Instead I clamped the boards one at a time to the front apron of the bench and planed them with a jointer plane until they were what I wanted.
I then screwed the top boards to the cross battens.  I made sure to bury the screw heads pretty deep so the top could be smoothed with a hand plane without any concern for hitting them and nicking the iron.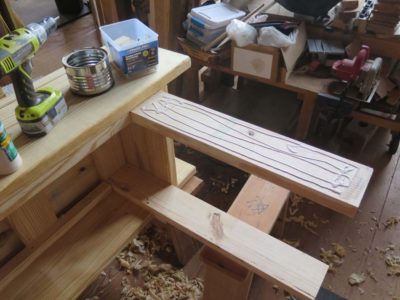 I then rolled the bench onto its back on top of my short sawbench type stools, and glued and screwed the outer leg lamina in place.  As with almost every undertaking of this sort, I used decking screws and fender washers as the clamping forces.  Once the glue is dry I simply back out the crews and pry off the washers and put each in their proper container for use the next time.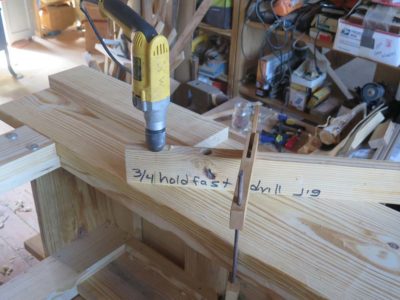 A minute or two planing off the lumber mill chatter marks and I was ready to drill the holdfast holes, for which I used this exotically engineered jig.
While the bench was on its side I trimmed all the legs to length.
Back up its feet, I checked to make sure the top was flat, albeit not really smooth as there was a bit of mill chatter. I touched it lightly with a smoother plane to get it, well, smooth, followed by a quick covering with the toothing plane.
I cannot remember exactly why I took this picture of the bench upside down, but it does give you a good view of the entire undercarriage.
After drilling the holdfast holes in the top, through the planks and battens, and the construction of the bench proper was finished.  Now it was time to move on to the twin screw corner vise.