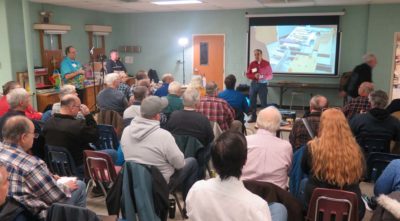 A week ago Saturday I had the great good peasure to spend the day with two DC area woodworking groups, the Manassas Woodworkers and the Washington Woodworking Guild, as they co-hosted a day of Japanese toolification with my friend Wilbur Pan of Giant Cypress fame.  The event was at the Manassas group's space which turned out to be almost perfect for it.  I did not take an exact head count but the room was crowded with an estimated 75-100 folks, some of whom came from surrounding areas as distant as Fredericksburg or even the Virginia frontier.  Since I have been in that circle of woodworkers for a long time I knew many of the folks in attendance.
Beginning at noon and winding up at supper time, Wilbur walked the audience through the many facets of using Japanese tools in his woodworking, taking pains to refer to those areas where Japanese tools are different from European traditions and where they are similar and complimentary.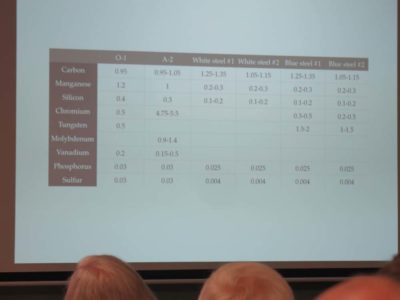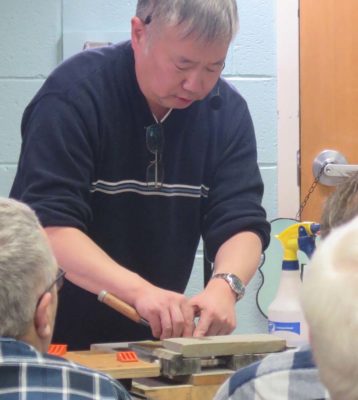 Systematically he reviewed the major tool categories — planes, saws, and chisels —  including a full menu of reference information ranging from metallurgy and manufacturing technology to edge geometry to ergonomics and kinesthesiology.  My impression was that this was unfamiliar to many in the audience, but there is no way anyone could depart at the end of the day without a deeper understanding of woodworking in general and Japanese woodworking in particular.
In addition to Wilbur's tools for the demonstrations, WWG member JayC brought his sizable inventory of tools for show and use.  This was one of three or four tables Jay had set up for his tool collection.  As we were cleaning up and clearing out afterwards I noticed Jay giving instruction to some of the attendees who wanted to try things out.
I finally got back to my daughter's home around 9.30, just in time to Skype with other daughter and SIL.  It was a darned near perfect day; breakfast with a friend who is a political mechanic, strategerizing about disrupting the malevolent Virginia political establishment, woodworking toolism with friends old and new all day, a delightful dinner with same, and ending with Mrs. Barn and me chatting with the ones we love most dearly.