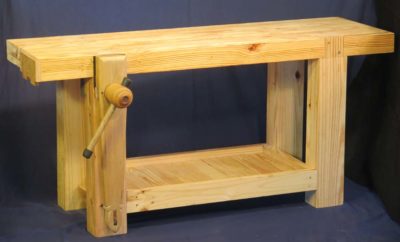 Recently I was back in Mordor for a couple of days and dropped in to visit my friends and colleagues at the Library of Congress Book Conservation Lab.  I was delighted to see them again, and can happily report that the work bench I custom made for them last year is suiting their needs perfectly.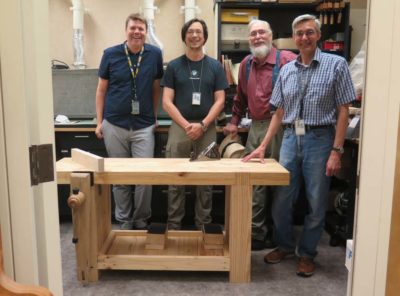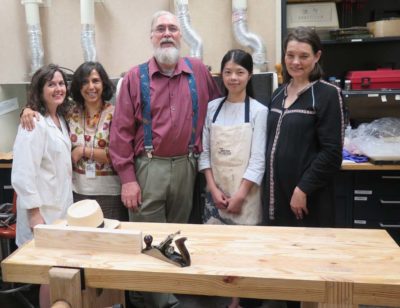 There is clear evidence of use of the bench, and there is universal acclaim of its suitability for their needs.  They are especially appreciative of the stepped riser blocks so it can be fitted for everyone in the group.  As you can see there is a wide range of statures represented in the group.
The purpose of the bench is to serve in the re-binding of ancient books, a process that is typical every few centuries for books of the pre-16th century type, which were bound with solid wood cover boards.  In preparation for an upcoming rebinding of an important book (14th century?) they undertook a practice run of creating a completely new book that replicated the projected treatment for the old book.
Much to my surprise and delight they gifted this practice book to me, and it has become a treasured keepsake.  The workmanship and artistry are simply breathtaking.  They urged me to use it as a note book but thus far I have not been able to force myself to do that (although I did already ding one edge).  Time will tell if I ever can.