I am not a tool collector.
To be sure I have a lot of tools, perhaps (probably) even to excess as there are many tools of which I have multiple representations.  Some of this is a result of having tool sets in several different places, for example the workshop in the basement of my daughter's house, the video studio up on the fourth floor of the barn, and my own workshop on the second floor, etc.
In addition I have a number of tools that are slight variations of each other; what other explanation is there for my inventory of more than a dozen toothing planes?
I recall vividly a conversation between Mrs. Barn and Robin Lee of Lee Valley Tools Tools during the set-up of a Handworks event, where the full panoply of the Veritas offerings was on proud display.
Mystified by the range of hand planes on display, she asked him, "How many planes do you really need?"
Robin's reply was, "How many are there?"
Another reason (excuse?) for having too many tools is that I have upgraded a particular tool for a slightly better version of the same thing but failing to dispense with the previous one.  That might explain my owning at least a half dozen shooting planes.
Yet another reason for having excess tools is my affinity for designing and making tools that would be, by definition, unique as my personal creations.
Nevertheless I can state unironically I am not a tool collector since I do not have any tools for the mere purpose of possessing them for whatever reason.  I cannot think of a single tool in my possession that I would not use in the shop.  Some do not get used frequently, nevertheless I own them for the purpose of working the materials in my milieu.
I do have a few tools that are of "collectible" stature, most notably a near-pristine c.1800 Robert Towell miter/shooting plane.   I could afford it only because Towell was lackadaisical about stamping his work and even though this is almost certainly one of his it is not stamped.  Thus, its purchase price was only 10% of what it would have been otherwise.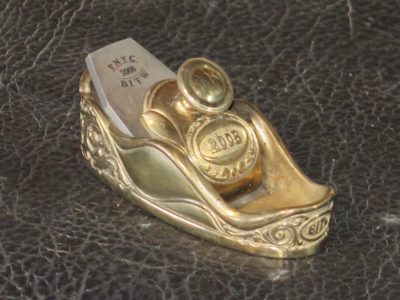 I also have a couple of small Art Nouveau-ish tools by contemporary jeweler/sculptor Chris Laarman's that are simply lovely to my eye and hand.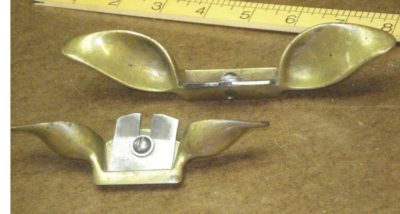 My set of "whale" luthier's finger planes and a whimsical pair of "pig's ear" user-made spokeshaves are a pleasure to all the relevant senses, including my sense of well-being and my sense of satisfaction and contentment in the shop.
These tools are Objects of Inspiration as I live out and move forward with my own creativity.  In particular I am orienting increasingly toward the world of tool making, not necessarily "wooden thing" making.  In coming weeks, months, and years creative metalwork will become an ever greater emphasis of my own work especially in the world of "precious," purely indulgent tool forms starting with these unfinished models for two finger planes that have been in the drawer since I first designed them fifteen years ago.