In my opening entry to this blog I promised to present accounts of things other than historic woodworking or artifact preservation, with the emphasis on our evolving homesteading lifestyle.  This is the first of those posts, as it begins a periodic recounting of the independent electric system we use for The Barn, and eventually for the cabin as well.
Being "off grid" is fundamental to the identity for The Barn on White Run.  In part a lifestyle/political statement (I am fine with power companies but do not trust their political masters as far as I could throw a piano — virtually every gripe I have with public utilities stems from the regulatory bureaucracies governing them), in part a technological challenge (What?  Just plug it into the wall?  There has got to be a more complicated way to do this!), and part utilitarian practicality (out in the hinterboonies the power is interrupted a lot), the ability to work independently of the increasingly fragile power grid is a balm to the psyche.  That has been especially true during periods of extended power outage, for example during the 2012 derecho storm when the power was out for more than a week.  I continued work in the barn as though nothing had happened.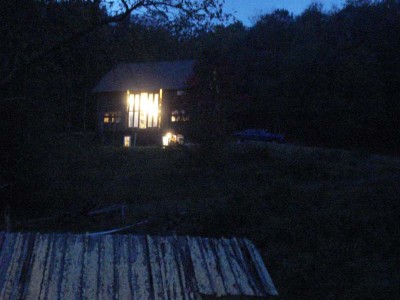 I am about to embark on several upgrades to my power system over the coming weeks and months, but I thought I would give you a glimpse of where I have been so you can better appreciate where I am trying to go.
Building the barn was accomplished with only a generator and power  tools.  My little Coleman with a Subaru Robin engine is apparently indestructible.  After more than 1500 hours it still starts on the first pull and runs until I turn it off.  (I could usually get about five or six hours per gallon of gas) A lot of time the generator was simply charging the 18v battery packs for the power tools, so rather than wasting an 8hp motor for that I got a teeny 1000 watt unit similar to this, that often gets about eight or ten hours per gallon of 2-cyle fuel.
I could have remained "generator only" for an indeterminate time, but making the barn fully wired required a more robust system.
Almost eight years ago I began to design our current system, its subsequent installation being the fulfillment of a lifelong dream.  When originally searching for property in the late 90s, independent energy production potential was prominent on the "Wish List" menu.  In the climes of the rural Alleghenies this meant hydroelectric power.
After we bought our place the wheels began to spin in hyper speed.
First, me being me, I read everything and bought every pertinent book I could find on the subject of micro-hydroelectric power.  You want literature on producing your own power at home?  Look on my shelf.  It's probably there.
Second, I searched far and wide for a practical workshop on microhydroelectric technology.  Eventually I flew out to Colorado to attend a micro-hydropower workshop at the Solar Energy International.  The course had a definite "Che was here" feel to it as most of the students appeared to be self-indulgent professional sandalista misfits pretending to follow their revolutionary catechism, while two or three of us were interested in actually building residential power systems rather than overthrowing political kleptocracies in the third world.  The course was good as far as it went, but the holes in the content were large and did not become apparent to me until I built my own system.
Up next –  the elements of my initial independent electrical system