A couple weeks ago I spent several days working on the old house, first replacing some degraded decking on the front side of the house.  There's is a lot of decking on this house, somewhere around 1900 s.f. which needs replacing periodically, especially that which is exposed to nature directly.  Such was the case her, as the decking in front of the living room and the platforms for potted plants across the front porch had been in place almost 3-1/2 decades, and were looking all the more shabby alongside the newly installed cedar shingle siding.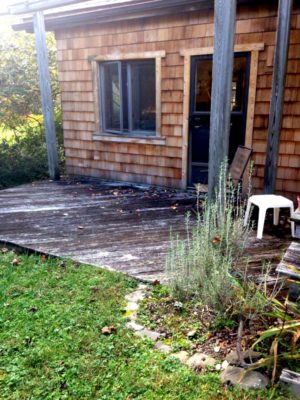 Dottir has a friend from church who is temporarily out of work due to Covid insanity so I was able to hire him for the week of work.
My plan was to replace the old SYP decking boards with synthetics so I would not have to address this problem any more in the lifetime.  The only downside to using this material was the cost, which was $4/l.f.  So, these two small sections of decking cost more than my first purchased domicile, a very nice 12×60 mobile home in 1975.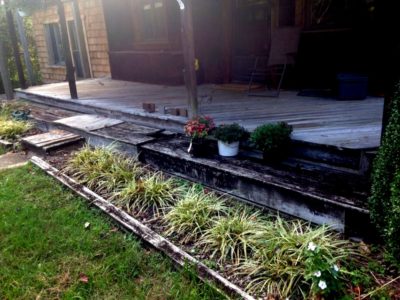 I also planned to re-use the sub-structure if it was in good enough shape, which was true for everything except one of the front platforms.  Taking the old decking off required patience and care as the original screws had become subsumed by the wood expanding and contracting innumerable times over the decades.  Two days of this and we were ready to roll with the fancy new plastic boards.