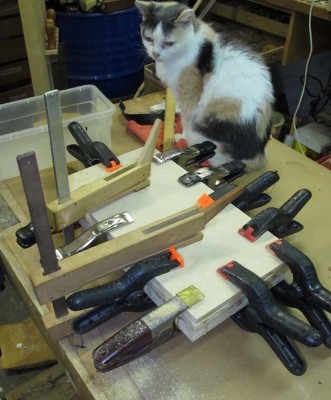 Recently I got the call that the last of our gerontological felines had departed for the Great Catnip Patch in the Sky.  18-year-old Calico Girl, or "Callie," featured recently in Popular Woodworking,  died while my daughter was at work, and she buried her alongside our others.  Another old gal, "Baby" also 18, had died only a fortnight earlier (all these are natural deaths of ancient cats simply fading away.)  They were all rescued cats who lived long and much-loved lives.
This picture of me editing Roubo in about 2011 was a pretty typical image on a cold winter's night, when even though we kept the house heated the cats knew it was cold outside and wanted to suck as much body heat out of us as they could.  From top to bottom they were Lazy Boy (d. 2012), Toby (d. 2011, he adopted us out at the cabin in 2001), and Baby.
This is one of my favorite pictures of Toby curled up in the void of a modern sculpture I was restoring.  If ever there was a person in a cat costume it was Toby.
We are now cat-less for the first time in more than 30 years.  As a cat person myself, it feels a little weird.  I know cats have a reputation as being aloof, but their indifference to me makes them all the more appealing companions.
I think I' am in the market for a barn cat…