Some months ago I was approached by my friend TimD, who was organizing a "Historic trades" weekend at his place with fellow gunsmiths, horn workers, blacksmiths, weavers, etc.  Tim is an accomplished craftsman, primarily making flintlock rifles and associated accessories like powder horns.  So, he was gathering a number of friends and acquaintances for a weekend shindig open to the public and he asked me to demonstrate making my Tordonshell to the crowds.  It was a peculiar technology to include but I was delighted to participate.  I spent three days on display and explained Tordonshell to literally hundreds of attendees.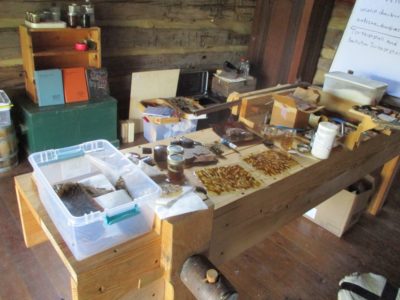 I was set up to occupy Tim's gunsmith shop, a reconstructed late 18th/early19th log structure, using the partner's workbench I built for him a few years ago.
The front porch of the shop was occupied by other artisans including a wool spinner and my very own polissoir-maker Gary.
I was frankly surprised by both the number of visitors I had, and the intensity of their interest in both genuine tortoiseshell and my imitation of it.
Next year's event is already on the books for Labor Day weekend and is expected to have around 30 demonstrators.   I am already at work for my demonstrations, as I will be making things out of finished Tordonshell as opposed to making the Tordonshell itself.
I hope you can join u there.