… to prepare for.
This week I was formally disinvited from presenting at the Winterthur marquetry conference this upcoming April, so those scores of hours over winter I had budgeted for creating my Boullework demonstration and writing the subsequent book chapter has now been cleared from my schedule.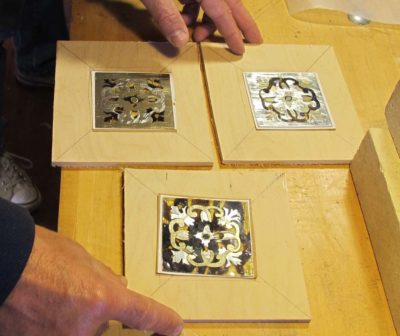 As I was chatting recently with a woodworking friend about my presentation at the conference, he asked, "Do they know about your attitude regarding Covid protocols?"  Gobsmacked, it had never occurred to me.  Given our daily lives in the least populous county east of The Mississippi, it is simply not a common part of the conversation for people with whom I associate.  Yes, Covid is a real pathogen and yes it has impacted our community (many, if not most, of the people I know here have had it), but we live our lives normally without disruption and do not obsess about it.   I realized I should extend the courtesy of informing the conference organizers explicitly of my position, which I did in unambiguous terms.
Our county has been de facto mask-free for 18 months with numerous public gatherings like concerts, civic commemorations, seminars, etc., aside from some of the "larger" businesses like our local banks, the courthouse, school, and the medical center (the only entity for which masking makes a lick of sense).  We talk face-to-face, we shake hands and hug, we dine together in homes and restaurants, we conduct business with each other as normal.
Our church suspended worship for a month in early 2020 then resumed worship and encouraged masking for another few weeks, but has met continuously since last Spring with all protocols being voluntary.  Has there been Covid in our congregation?  Certainly there has but everyone has recovered nicely, even our pastor who became the most gravely ill of the cases in the county to that point.  Ditto every other church in the county (the Mennonite Church has exactly two adults who have not had Covid).  Even the banks do not require masks for customers, only the staff are wearing them, which creates an exceedingly off-putting atmosphere.  We have had hundreds of cases in our county of 2100 people, but only two "Covid deaths," both of whom for which the pathogen was merely the final straw for exceedingly compromised personal health.
In short, I informed the Winterthur marquetry conference organizers that I have not and would not be getting any of the experimental gene therapy injections, nor would I wear a mask while in attendance at the conference.  If they were fine with that, great.  If not, well, "Houston, we have a problem."
Houston had a problem.
The host institution would not allow me to attend under those terms, so I will not.  I have my views and they have their rules, and apparently never the twain shall meet.  I certainly bear no ill will and hope the conference is a resounding success!  If it is live-streamed I will probably check into the proceedings.
An unexpected batch of time cleared?  Check.