I'm pretty convinced of the efficacy of hanging tool cabinets versus a floor-level tool chest.  As I was setting up my studio on the barn I had a pile of large surplused drawers and made two of them into a tool cabinet for my Japanese tools.
A few weeks ago I finally had to admit, "Well, this isn't working."  Not only were the drawer/doors too big for easy access, the space in front of them was simply too convenient for me to pile stuff there, blocking the door completely and rendering the interior tools inaccessible.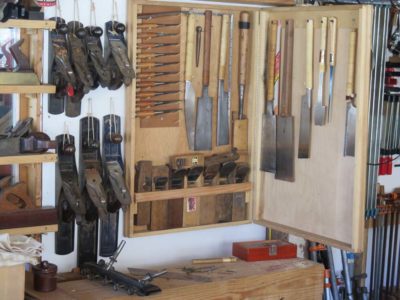 Something needed to change, and it was a "one of these days" moments.
Stay tuned.