About the same time I made the hanging wall "cabinet" for my Japanese tools I also made a similar cabinet for my hand saws.  It is fair to say that the second iteration of the concept was every bit as successful as the first.  I had this "cabinet" tucked into the corner above my Roubo bench.  Once again the cabinet door was so large (24″ x 36″) that almost everything (well, mostly the Gerstner full of layout tools) blocked it from opening fully, thus inhibiting the access to the inside contents of a dozen mostly vintage carpenter's saws.  Plus, the combined inside depth was so shallow, ~4 inches, that I had to hang the saws flat inside, several to a peg.  That got real old, real fast.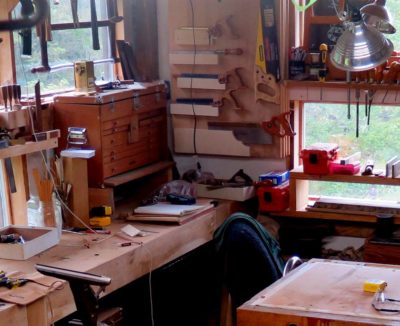 The only part of the set-up that I liked was the holstered fittings for my back saws, which kept them visible and accessible.
So I pulled out all the saws from the interior and abandoned the "cabinet" on the wall.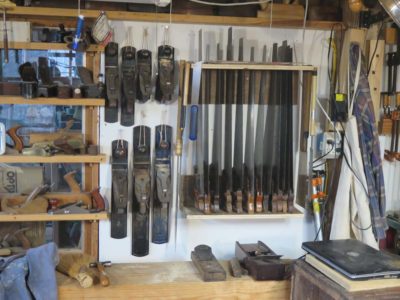 Pulling out some scrap plywood I made two shelves to hold saws, one slotted for the top and one plain shelf for the handles at the bottom.  I attached these to the wall where my Japanese tool "cabinet" had resided previously.  The fit and location seem perfect.
I use the sides of the top shelf to hang surplus Japanese saws, and that arrangement also works very well.  I'm thinking that I will make a swinging panel on the front of the shelves to hang my back saws, but have not committed to that yet.  I have a bit more spatial arranging to do in the studio space before I get to that point.