Like many (most?) of you I have a long list of things to do around the shop, usually memorialized by the phrase, "One of these days I'm going to (fill in the blank)."  Given my lengthy hiatus from getting into the workshop over the past few months I have been reveling in a week-plus in the shop.  On my return I was struck by the fact that the place looked like a tool bomb had gone off, the result of me swooping in for a minute or two to get something or other that I needed elsewhere on the homestead, and then failing to reestablish order in the aftermath of that particular moment.  I greatly admire my friends MikeM and MartinO and SharonQ for whom order and tidiness simply flows out of their pores, but that is not the way I am wired, unfortunately.
The impetus for the latest/current tidying of the shop is based on a number of things, the first being the general state of disorder as previously described.  Add to that my desire to get the leg vise for my FORP bench installed and ready to work.  Add to that the currently-in-gestation woodworking/musical instrument making club that will soon begin to convene on a weekly basis in my shop since I'm the one with the necessary space, workbenches, and heat.  So, I need to clear out a bunch of stuff that is just taking up space in order to accommodate three other fellows with their projects.  Then there is the always evolving strategy for tool storage.  And lumber storage.
And, and and…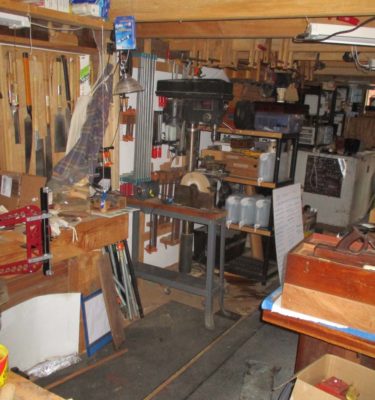 My first step in this ongoing adventure was to consolidate some boxes of wood scraps and removing a shelving unit of just plain stuff in order to move in my drill press and water wheel grinder.  It's funny how even by replacing one shelving unit with two machines the place seems more spacious already.  It gives me instant gratification to keep moving forward.
Stay tuned.