With the wooden core and outer bronze shell fabricated it was time to combine all the elements together to see if the concept was viable.  Given the taper of the beveled side of the new plane shape and the resulting narrowing of the plane mouth I needed to cut one ear off the "T"-shaped iron to fit the smaller opening.  With my Dremel tool and a cut-off abrasive disc it took all of thirty seconds to do that.  Another minute on the diamond plate smoothed it all up and even the sharpening did not take long.
I decided to screw the bronze shell to the wooden body in such a manner that I was sorta working without a net in that if it did not work out correctly I was in for a lot of headache work.   Much like Chris Schwarz uses on the corners of some of his campaign furniture, I drilled and countersunk the screw holes such that the vast majority of the bronze slotted flat head wood screws projected proud of the surface by an amount greater than the slot depth, then file the area smooth.  I got my bronze screws from my favorite screw source, Blacksmith Bolt and Rivet Supply out in or near the Peoples' Republic of Oregonistan.
Since the screw's clamping force was so great the bronze shell deflected and I had to do a fair bit of abrasive flattening to make everything look good.  The first ones left me very optimistic.  A subsequent error resulted in less satisfactory results.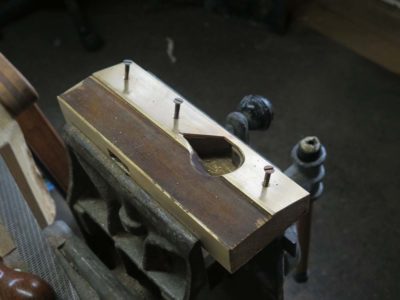 As I moved on to the other screws I mistakenly switched from using my brace and bit to cut the countersink to my battery drill and its countersink bit.  Big mistake, as the angle of the new countersink was incorrect, an error I did not realize until it was too late.  Clearly the bevel for the second countersink bit was shallower than the first bit in my brace, so the screws did not seat perfectly and there was a tiny line around the fastener when they were leveled off.
Drat.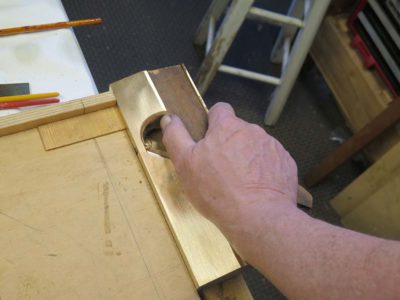 That said, once I cleaned it all up as best I could the tool both performed magnificently but also fit my hand like it was designed for it.  For that reason I did not make and install a handle like was on Patrick's plane.  I always have the ability to do that ex poste.
Some last minute clean-up and I declared it finished.  Since the purpose of the tool is to shave the edges of veneers (I use hand-sawn veneers pretty much exclusively for parquetry) I gave it an extensive test drive and I have to say that it is more than glorious, more than sublime.  It is gloriously sublime!  Or is it sublimely glorious?
I'd guess that I have somewhere around 8-10 hours invested in it, and I think it was well worth the effort.