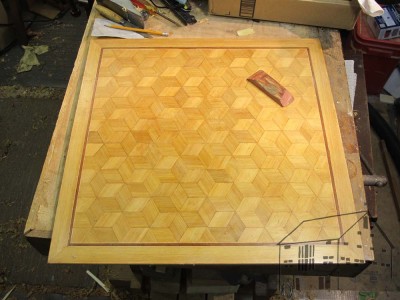 Last weekend I taught a three-day workshop on creating this parquetry panel a la Roubo for the Kansas City Wood Worker's Guild, a delightful host if ever there was one.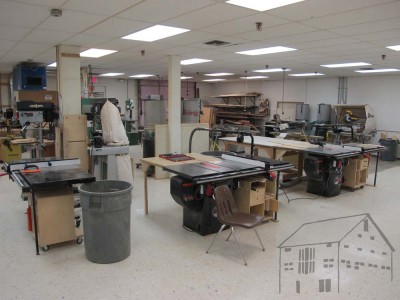 All you've heard about the Guild, its membership, and space is true and then some.  they are positively at the top of the food chain studio-wise with a nice lecture space, and complete bench room, and a machine shop to die for.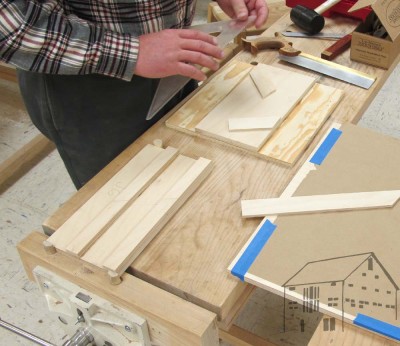 The first day began with a discussion of the project in general, but more importantly several specific tasks to get things started.  First was the construction of two jigs necessary for the cutting of the 60-120-60-120 parallelogram lozenges that comprise the parquetry.  One of the Guild members had prepared all the baltic birch plywood to make them, so all we had to do was cook some glue and assemble them.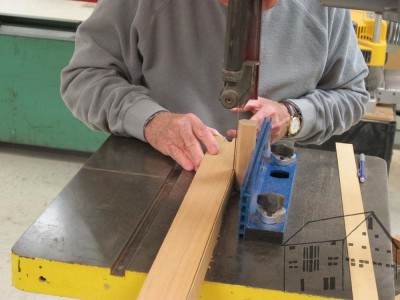 Next came the ripping of the lumber into the veneer strips from which the lozenges were cut.
Following that was the cutting of lozenges.  By the hundreds.
Since the pattern is first assembled and glued precisely onto heavy kraft paper, the needed to be divided exactly on both axes.
Finally came the assembling and gluing on the paper.  this is actually more difficult than it seems and can be quite a challenge for newcomers until they get the knack of it, something I will be addressing in a blog in a week or so unless the spirit moves me to make it sooner.
More tomorrow.