NB — I cannot recall if I ever wrote about this on the blog.  If not, fine.  If yes, you get to read it again.
As I am in the midst of pattern work and prototyping for producing replicas of the HO Studley infill mallet I have been using my retinue of patternaking tools, which naturally draws my memory back to the day 15 years ago when I responded to an ad in Craigslist; I used to scour the Tools section regularly.
The ad was, to say the least, terse and enticing.
Fine woodworking tools. call 703 *** ****
That's all.  Fine woodworking tools.  I called, and the fellow's location was just off I-66 and since I was heading out from Mordor for a weekend in Shangri-la the following day, we arranged for me to come to his home to check it out.  I arrived with all the cash in my Tool Acquisition Fund ($400) and he ushered me into the basement room where the tools were.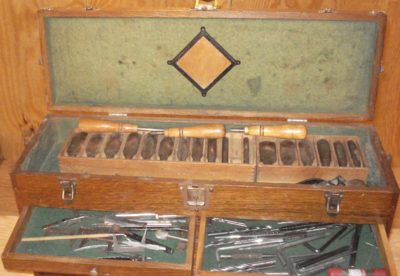 As we went down the stairs he said "I'm not even sure what all of these tools are, but my Dad was a patternmaker in the Houston shipyards and I am moving into a smaller townhouse on Capitol Hill and just need to get rid of stuff."  Even before we reached the bottom landing my heart was racing.
You see, ever since Mrs. Barn and I got married (40 years next month) and I left the pattern shop for us to go back to college, she was getting an MS in Plant Pathology and I was giving undergraduate coursework a third and final try, I had been looking for tools from the patternmaker's kit to add to my own.  My time in the pattern shop as extraordinarily formative, it was where I learned the definition of "precision woodworking" and practiced it probably more than at any point in my life.
And there it was, a more complete patternmaker's tool set than I even used in the foundry pattern shop, residing in a pristine but vintage Gerstner patternmaker's tool chest.
As he opened the drawers the seller said, "I don't even know what this stuff is, can you tell me what it is?"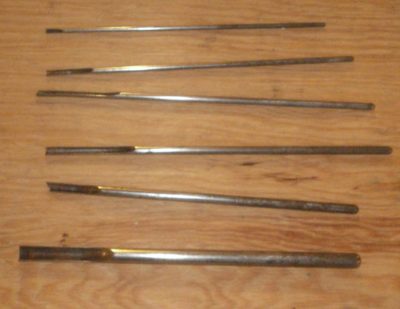 For over an hour I walked him through the case's contents, describing what each tool was.  Admittedly the set of orthopedist's chisels made me scratch my head a bit.
Then came the moment when I asked him what he wanted for the collection.  Remember, I had $400 available for the transaction.
"I don't know," he said.  "What is it worth?"
I replied, "Well, here's the good news and the bad news.  The good news is tool set is incredibly complete and probably worth something like $2000-3000 at least.  The bad news is $400 is all I've got."
I was not going to cheat him out of a family heirloom.
I thanked him for the opportunity to browse through his father's tool chest, which included even his union card and dues account book.
"Someone else will come along who can give you a fair price for this, so just wait for them to call you," I said.
I left and drove to Shangri-la with mixed emotions.  On one hand it was a terrific opportunity to re-live a foundational period of my life, but on the other I really did have a fixed budget of $400.  I would never draw money out of the family budget to buy this so I knew that the opportunity was gone.
Two weeks later, much to my surprise he gave me a call.   "You were right," he said, "I got a lot of interest in the tool set.  But everybody is trying to chisel me on the price, and that really p!$$e$ me off.  So if you can pay $400 and promise to keep the set together and use it for patternmaking, come and get it."
I picked it up the next evening and he held back only two tools which were too valuable to include in the bargain; a 36″ Starrett Vernier gauge, and a 36″ Starrett bevel-gauge rule, the kind with the 2″ wide scale.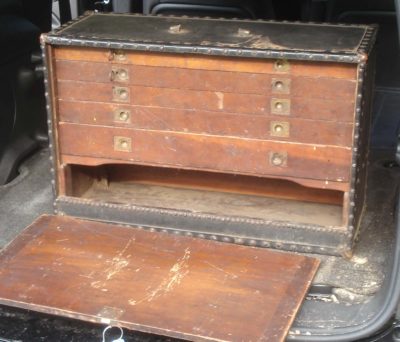 Over these years I have fulfilled my promise and kept the tool set intact and used it for patternmaking work, including the ongoing Studley mallet head project.  The only thing I have done is to disperse some of the tool collection into a companion Gerstner patternmaker's tool chest, a fairly unusual form acquired at one of the MJD auctions.
I did not conduct a detailed inventory and valuation for the set, it is worth whatever it is worth and my heirs can deal with that in thirty or forty years.  The only exception was that I must admit to checking on the tool cabinet itself.  At that time a vintage Gerstner Patternmaker's Tool Chest in excellent condition, which this was and is, was around $800.
Don't you just love a story with a happy ending?