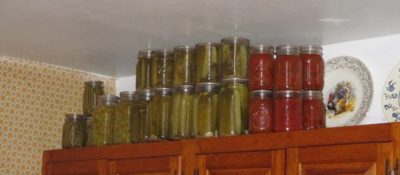 This is a grand time on the homestead as the bounties from Mrs. Barn's passions for gardening and good eating become manifest.  She gathers the fruits of her labors daily, and processes them almost every day.  Canning, drying, pickling and eating good stuff are in the air all the time now and, thanks to her skillful efforts, into the winter.   On top of that is the yogurt and cheese she makes every week from the two gallons of whole milk we get from a local farmer.
Pickled cucumbers, pickled squash,
dilled beans, green beans, dried apples and strawberries (she picked over 100 pounds of strawberries this year!; I'm guessing she cans/dries about 150 quarts of food every summer and autumn),
tomatoes, and salsa are the results that will treat us all winter long.  The tomatoes are just arriving so fresh BLTs will be on the lunch menu for the next dozen lunches.
On top of all this the apples are beginning to turn so I can look out my studio window and see them hang in the trees.  Maybe it's time to build an orchard ladder or two.