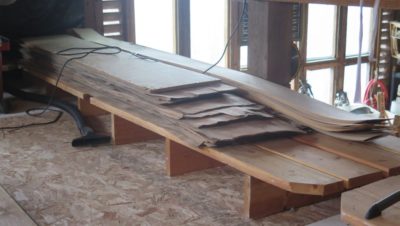 Over many years due to some fortuitous opportunities, including the generosity (?) of fellow woodworkers cleaning out their stashes of stuff, I have managed to acquire an awful lot of veneers.  Those that are unusual or rare go one place in the barn, but the large majority is mundane and gets stacked on a pair of cot bases on the floor directly overhead of my studio space.  There is nothing special about this pile of veneers other than the fact that for the most part this is vintage, heavier weight material than you would routinely find today.  Most of it is in the range of 1/20″ to 1/30″, in poplar, walnut, maple, ash, cherry, and birch.
Even If I was manufacturing furniture, I would never use all this up.
So, what to do?
I've been contemplating making small, elegant boxes, mostly with either parquetry/marquetry or fuaxrushi presentation surfaces.  Some of the boxes would be straightforward cubic shapes, others bombe'.  What better foundation for these decorative techniques than ultra-high-quality veneer-core plywood?  I have long believed that a static substrate of high-quality plywood is superior to a dynamic solid wood substrate with its inexorable rheological response to environmental moisture change.  I could spend the big bucks to get marine or aircraft plywood, or I could just make my own.
So, I will.  I have had excellent success in the past making small epoxy/veneer plywood panels for little projects and will now make that my SOP for fancy little jewel boxes.  For larger pieces, say 12″ x 18″ or maybe a little larger, I will need to make a veneer press.  For bombe' panels I will need to construct forms and devise a vacuum press.
In the end, it is all just more fascinating stuff to do in the adventure that is life at the barn.