On Wednesday I got the first production run of the three new models of polissoirs that have been in development for many months. Here is a picture of the whole team, with the original polissoir on the left.
Next to the Original model is the new, Full-Sized Roubo Model polissoir, a full 2-inches in diameter as Roubo first described.  It is definitely a handfull.  You can get an idea of the comparative size by viewing the 2-inch in my mitt, and the 1-inch in the same place.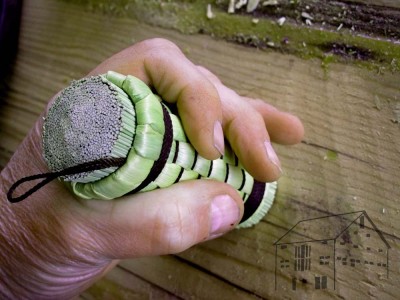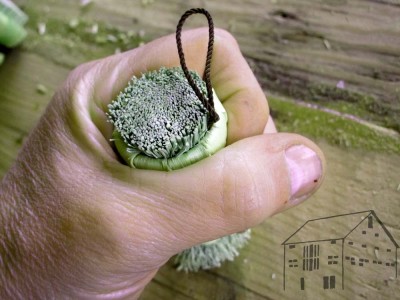 The third player in the line-up is the polissoir made especially for burnishing intricate high-relief carving.  This 1-inch diameter polissoir has 1-inch long bristles from the raw end of the broom straw stalk.  I was so enamored with my prototype that I ordered these to include in my inventory, rather than just keeping the prototype in my tool box as a whim.  With these new polissoirs I found it simple to trim and shape the tip to any desired profile with a pair of scissors.  I like to round them a bit more than they are when they arrive.
The final addition, the polissoir on the right, is identical to the Original model on the left except that it has bristles of 1/4″ length rather than 1/8″.  This innovation allows you to sculpt the business end to whatever configuration you want.  I find this model especially useful for burnishing the insides of concave surfaces and the corners of panels.
The first step for this is to submerge the tip into molten beeswax until it is fully saturated then withdraw it and allow it to cool.
Once the wax is cool and hard you can shape it however you want with chisels and a float.  Using images of my prototype, you can see the domed tip, for burnishing the insides of concave surfaces, or the flat square tip for getting into the corners of panels.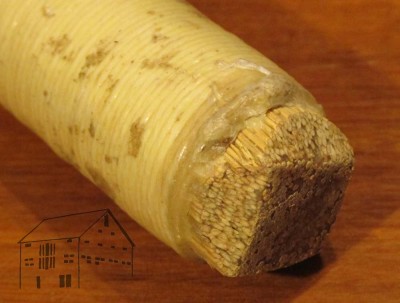 Until The Barn store is up and running, which I think will be very, very soon as I sent Jason one last piece of information for the Shopping Cart this morning, you can order these direct from my with PayPal at my donsbarn250@msn.com eddress.
The two new 1-inch models are $24 like the Original, and the full sized 2-inch unit is $42.  Just let me know if you want The Original, the Full-Sized, the Carver's Polissoir, or the 1/4″ Bristle Polissoir.  shipping per order is usually about $4-5, double that if overseas.
I think these would make a great belated Valentine's Day gift, don't you?