I have mentioned in the past that the quantity of hard facts we know about Henry O. Studley is so sparse that the only personality profile we have of him is his ensemble of the tool cabinet and accompanying workbench.  Anything more is at this point speculation.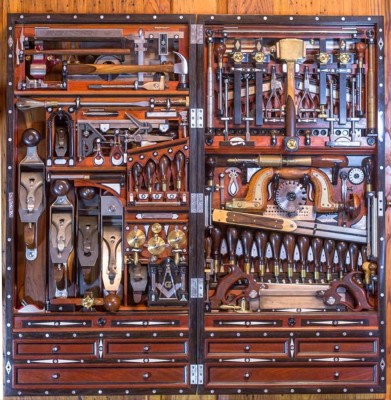 On the other hand I am acquainted with JimM a bit, I know we have met and chatted at an SAPFM meeting last summer when I was speaking about Studley and presenting a demonstration on replicating aged, historic surfaces.  I'd heard through the grapevine that he was replicating the tool cabinet as precisely as possible, including the contents, and we corresponded a time or two about details of the cabinet.
And then he sends me the pictures posted inside this blog entry.  Though I know the barest minimum of facts about JimM, I can see clearly from these images that this is a man who must not sleep much.
With this project JimM has set the bar very high for that multitude of you in the lignosphere who are equally captivated by the virtuosity of Henry O. Studley.
Well done, JimM!  As the monomaniac who completed his homage to Studley the first, I will have to think of an appropriate prize for you.