The second major path for the pursuit of the ultimate decorative decorative surface is one that, GASP, requires the wood to be covered up entirely!  How crazy is that?  Yup, I'm talking about paint.  Yes, in order to follow this path you have to obscure the wood and those magnificent joints you want to show off.
I remain bewildered by talented craftsmen who expend sometimes nearly psychotic attentiveness to the fabrication of structures (seriously, I have seen woodworkers using micrometers on their joinery) yet blithely disregard the finishing process with any more conscientiousness than was required to puke out some polyurinate onto the surface.  And painted finishes, to be done well, require a high degree of fussiness and often take many, many days to complete.  Not many, many days of constant work to get complete, but fancy painted finishes in particular require a lot of drying and curing time, sometimes followed by painstaking polishing out.  These realities tend to chase off many woodworkers, but I am here to tell you that the rewards are worth it.
A second hurdle is that many craftsmen are like me, well at least some have to be like me in this regard, in that I find artistic creativity of the kind made manifest in paint to be intimidating because "I don't have any artistic talent."  That is certainly the curse I have been laboring under for lo these many decades.  Fortunately for me, and perhaps you, I am not unique in the history of artisans in surface decoration.  You think that the acres of decorative work in ages past was all accomplished by artistic geniuses?  Think again, and thank goodness!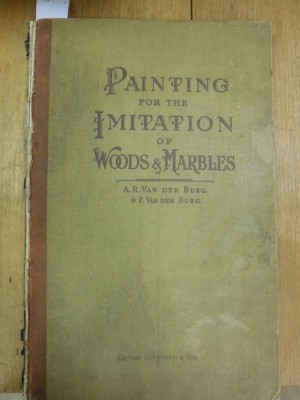 Gifted artists have been as rare in the past as they are now.  In order for the decorative enterprise to move forward the accomplished ones came up with techniques that allowed the less talented folks like me to labor productively in the arena.  Design books.  Rote hand skills (yes, hand skills are an integral part of surface decoration just as they are in any other craft undertaking).  Recipes.  Step-by-step illustrated instruction manuals (School of Painting for the Imitation of Woods and Marbles by Van der Burgh, c.1900, comes to mind, but there were many other earlier tomes).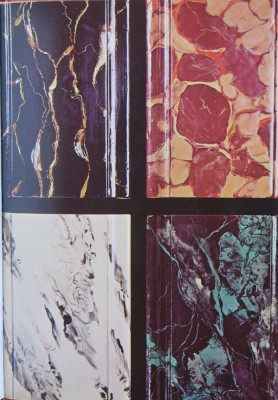 I became fascinated with faux finishes during my late teens, perhaps even before I was at the Schindlers' shop.  There was in South Florida a renowned decorative painter whose name was Mr. Lachanina  (?, it has been over 40 years), who was academically trained, perhaps even at the Rome Academy, as a fine art painter.  But his career was winding down he spent virtually all of his time creating faux finished furniture.  He would purchase pieces "in the white" and apply fantastic graining and marbling to them.  I observed many of his pieces in the homes of customers for the high-end furniture stores for whom I worked as a deliveryman and touch up guy.  They were exquisite, really breathtaking but not the least bit kitschy or gaudy.  Suffice to say they made a life-long impression on me.
His workshop was next to my sister's place of business and when I visited her there I would look through the windows at him working or at projects in progress.  Much to my great regret I made no effort to meet him, much less take the opportunity to learn from him.  Ah, the stoopididity of youth.  His skill and reputation was such that in his hands a small cabinet that he would purchase for a couple hundred dollars would then be sold for a few thousand dollars, which at the time (1972?) was a fortune to a kid like me.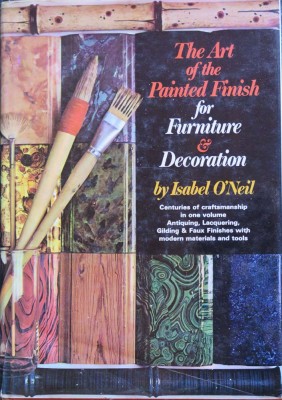 Shortly thereafter I purchased the book that was the yardstick for faux at the time, Isabel O'Neil's The Art of the Painted Finish.  The plates of faux finishing in this post come from that book.  I still have that original edition I bought more than forty years ago but have since augmented it with a couple of "user" paper-back versions to save the first one.  Though less glitzy than subsequent volumes like Finkelstein's Art of Faux and Marx' Professional Painted Finishes along with many others, I found myself returning to O'Neil and recommend it to you without reservation.
At present my only foray into the world of faux is actually a somewhat vicarious one, through the brilliance of my dear friend and colleague DanielaG as she creates the peacock feather for the Gragg chairs I build.   Well, actually only one completed chair thus far but two more are in the pipeline for later this year.  My goal is to document Daniela's process so fully that a video on the topic can be the result.
Over the years I spent many an hour musing about a time in my life where I would do just like old Mr. Lachanina, purchasing furniture "in the white" and creating sumptuous painted surfaces on them.  And of course selling them for a fortune.  That day may yet come.  In the intervening time I never lost touch with the world of faux, employing it often in furniture conservation and restoration projects, but have not done as much new faux as I would like.  Not because of disinterest per se but because my projects are so varied and time-consuming.  But, I will return to that territory soon.  I am already on the lookout for unfinished cabinets, tables, and chairs to serve as the canvas for the ultimate decorative surface version 2.1.
Up soon, ultimate decorative surfaces 2.2.