During my recent foray into Georgia for the French Oak Roubo Project I carried a special gift for Jameel Abraham.  In great part due to his work with making ouds, a Middle Eastern stringed instrument vaguely like a lute, he has developed a passion for intricate tiny mosaic patterns.  In the 19th century a similar art form know as sadeli grew in eastern Asia Minor and in the Anglo-Indian territories of the raj.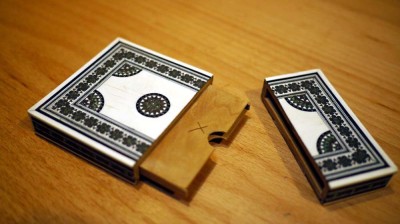 I have several pieces of sadeli, including an amazing lap desk of mosaic parquetry-and-ivory applied to a base of yellow sandalwood.    I also had a beautiful little calling-card box of sadeli and ivory (the size appropriate for holding business cards), which I thought should convey to him for inspiration in his work.  Not that he needs any; Jameel is perhaps the most inspired and inspiring artist I know.
Anyhow, Jameel being Jameel, he was constitutionally unable to accept a gift without giving one in return, and this is what he bestowed on me – a hand made 24" Roubo styled square.  It is an extraordinary addition to my tool kit, one that has already been effortlessly integrated in to my work.  It is also a terrific companion to a simpler Cuban mahogany square I bought for next to nothing many years ago simply because it had a broken blade.  You can still see the remnant of the damage of the blade just before it enters the beam.  Fortunately the pieces fit together perfectly and I was able to reclaim it from the burn pile with almost no effort or time.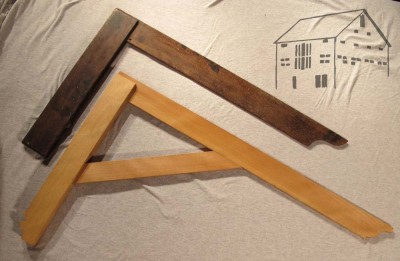 Both squares have magnificent, understated detailing, and are treasures in my tool set.