When closing down the HO Studley exhibit, one of the things I had to do was remove all of the exhibit paraphernalia from the exhibit hall, including the exhibit case for the tool cabinet, but also the platforms for the workbenches.  This required me to rent a large cargo van to fit it all in for the drive back home.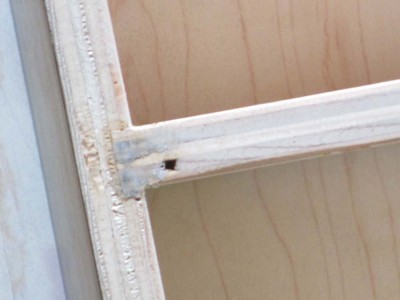 I haven't figured out what to do with the exhibit case, but the platforms are already recycled into terrific assembly tables.  Inasmuch as they were exceedingly stout well-buily 4×8′ platforms with 12″ skirts, all from cabinet-grade tulip poplar faced 3/4″ plywood, they were easily transformed into these new accouterments in the barn.
For each platform-now-table I took a single 8-foot 4×4 and cut in into four identical sections to serve as the legs.  At each corner I screwed a leg into the two converging aprons, then affixed big casters to the bottom of each leg, flipped it over, and viola, a new and lovely work table!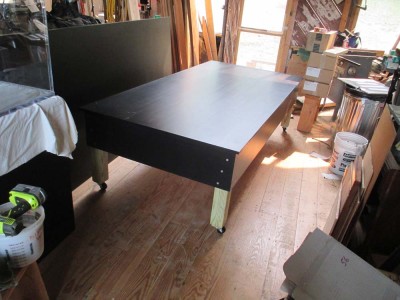 I moved one into my main workshop to serve as a workstation for either conservation or assembly projects, and the other is currently  against the wall in the classroom.  But since they are both on wheels, it is 100% likely that they will simply be moved from place to place depending on the needs of the moment.
It sure made me glad I am no longer bound by the 220 s.f. footprint of my former shop in the basement of the Maryland house.