With performance functionality assured — I'd flattened the sole, made sure all the parts fit together and worked well, and brought the plane iron to sharpness — it was time to turn my attention to making the infill plane pretty.
I disassembled the plane again and removed the infills to clean and apply a first coat of varnish.  Since the surface was a little friable and I did not want to grind away the wood to get down to uniformly solid wood for fear it would change the character of the infills I chose instead to coat the cleaned surface with a diluted application of West System epoxy, thinned about 25% with acetone to get the best penetration.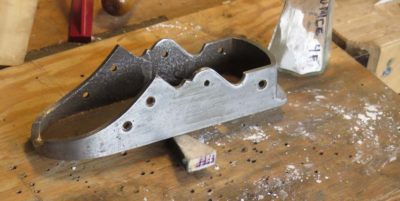 While that was happening I was cleaning the metal shell with fine sandpaper and 4F pumice.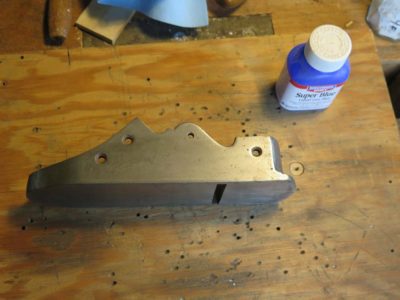 Reflecting my personal aesthetic preference my plan was to use gun bluing in several applications to turn out as black as possible.
As I was doing an in-process reassembly I made a fateful decision that changed the course of the project irretrievably: I gave it away.  The problem was morphological, as my hand was simply too large to fit into the "D" tote with any degree of comfort, and I simply did not like the feel of getting only my pinkie and ring finger comfortably inside the opening.  Instead I packed it up and shipped it off to my brother-in-tools MikeM whose hands are, unlike my meaty Germano-Welsh mutt peasant mitts, are sinuous Mediterranean limbs that fit the opening more perfectly.
Mike took the project over the finish line and it is now both a showpiece and his introduction to the incurable fascination with infill planes.