In addition to the earlier Rikon tune-up, consisting of a new lower tire, a new 1/4″ blade (although I am likely to supplant that with a 3/8″ blade) and tweaking the guides, I also recently re-installed the original rip fence augmented by a curved single-point resawing block.  My own view of this setup is that a fixed rip fence is almost nonsensical on a bandsaw, given the almost inherent drift in the tool design.  But, a band saw that is set up to rip and resaw well is a joy to behold.
Many, many articles and videos have been made about "truing" a bandsaw's cut.  Personally I find these a fool's errand for the most part on a small-ish bandsaw if the end objective is to turn the bandsaw into a precision sawing machine.  Sure, I stone both sides of the new blade when it is first running after being installed, to remove any distortion/excess at the weld joint.  I also round the trailing edge of the blade with the stone while the blade is running.  These two steps increase the performance considerably, but almost never result in a cut that is perfectly parallel to a fixed fence.   One option in response to this,  which I have used, demonstrated, and even included in a video, is to cant the fence to the degree of the run out.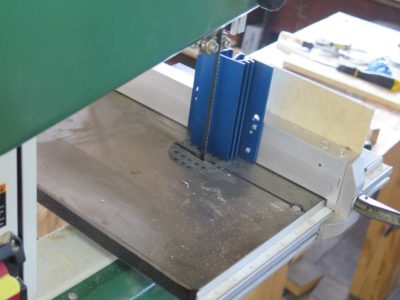 A single-point resawing block is a preferable solution, IMHO.  Somewhere along the line I picked up a Kreg brand block and had it available to affix it to the original rip fence as illustrated.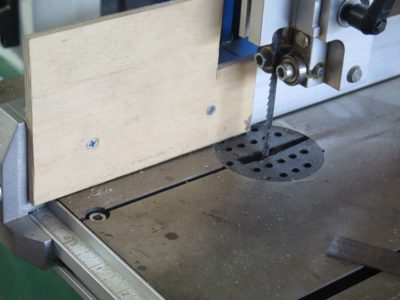 The beauty of the Rikon fence design is that I can have one side outfitted with a curved single point block and leave the other side with a half fence, which is also pretty usable (I have found that anything longer is useless on a band saw).  I do not mind using both sides of the fence and thus cutting in two different orientations, one on the right side of the fence and one on the left side.
BTW, I notice that both Woodcraft and Highland have these little beauties on sale right now.