As Day Two convened of the inaugural Intergalactic Ripple Molding Association, with Cor's ripple cutter "in working order," the day was spent fiddling and adjusting to make it cut some real moldings.
One of the first things we encountered was a broken part, the threaded collar that allows for the cutterhead to be raised and lowered, or better said, raised and released to allow the coil springs to push the cutter down on to the workpiece.  Rather than ordering another identical part, which would have cost us a day (the free market is GREAT; if I order a part from McMaster-Carr or MSC Direct before lunch, the part is invariably on my porch the following morning.  Even here in the Land Time Forgot!) we dove into my stash of lignum vitae and fashioned a new one, courtesy of my salvaged set of oversized taps and dies.  Keeping a slab of lignum around to make collars, bearings, etc., is a real boon in the shop.  Works like butter, wears like iron.
With the new part installed the fine tuning of the machine began in earnest.  While we already had what Rippleista John called "proof of concept" what we wanted was a machine that could crank out the linear feet of moldings ad infinitum.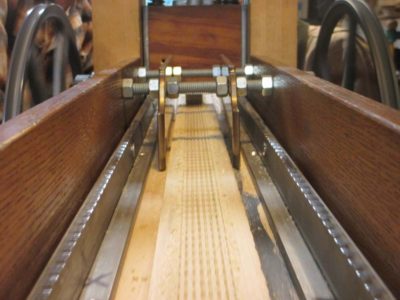 In a short time we had further refinements becoming manifest.
And once we were able to produce this molding, thanks to the delicate ministrations of Rippleista Sharon (she actually measures stuff.  What's up with that?) we knew we were on the way to ripple nirvana.  However, the machine is fussy to the point of truculence, requiring adjustments almost between every pass.  There is indeed great room for improvements in this machine and the likely model I will be building myself.  First among these will be a Norris-type advancing mechanism for the cutting iron.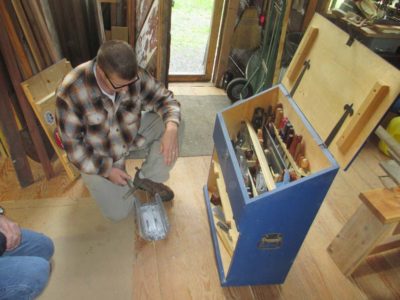 One highlight of the day was Rippleista Travis showing off his tool chest.  All were duly impressed.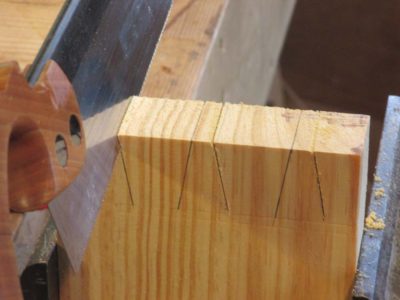 While the others were fussing with the Winterthur machine I was wrapping up making the box for the new machine that we were about to undertake fabricating.  I was making a long, narrow box from 2×6 stock.