With the "proof of concept" established for the first ripple molding cutter it was time to launch into Model #2.  I had my own ideas about its configuration and welcomed similar thoughts from all the others.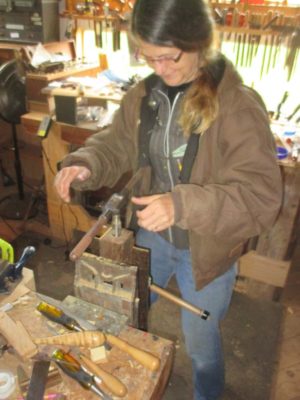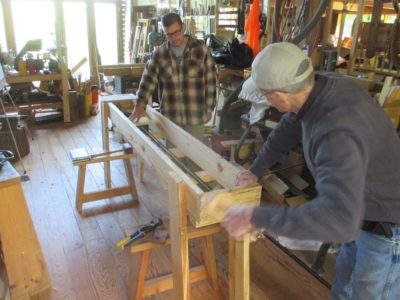 Our first step was to install the 8-foot thread screw which was the driver for the moving cutter-head to go up and down the rails.  While Travis and John were working on the rails/frame Sharon was drilling and tapping the lignum vitae "bolt" that was attached to the underside of the cutterhead carriage.
In short order we had as assembly with a set of tracks for the cutterhead to ride on, and a platform for the cutterhead centered in the frame.  The error in this concept became readily apparent once we started to lay out the bed for the workpiece and the cutter head itself.  There simply was not enough room for everything to fit there.
Back to the drawing board, which we flogged constantly throughout the week.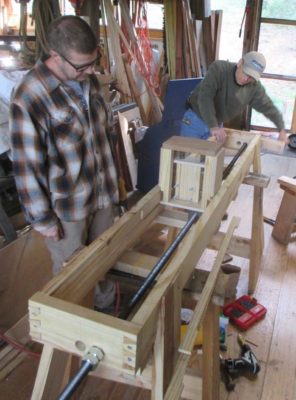 In short order we determined that an off-center location for the drive screw was going to work just fine and once again we were off and running.
While this was ongoing Sharon got the bug to make a new cutting iron to match one of the samples she found most fetching.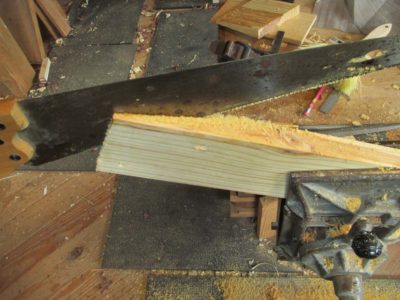 Meanwhile I was attending to a problem that became apparent when we were trying to get things working — the legs needed to be splayed in both directions, so I spent some time re-cutting the shoulders of the legs.
With that we were looking forward with excitement to making the new machine run like a champ.