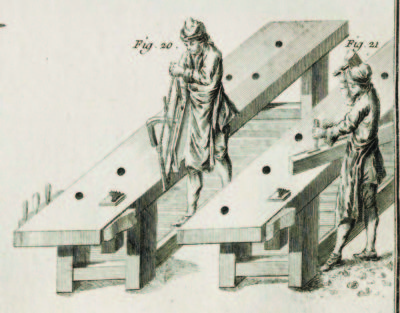 One of the many peculiarities of mid-18th Century Parisian workshops and their accouterments as documented by Roubo revolves around the absence of backsaws and panel saws in the tool kit.   These were bow saw and frame saw folks, and they used bow saws for any number of functions at the bench including stock prep and dimensioning to delicate dovetail work.  As for the panel saw, it was only mentioned in one brief sentence and then only in the context of building carpentry.  For whatever reason the French furniture and joinery shops were committed to open frame saws, whether bow saws or sash saws, as their workhorse tools.
Subsequent to my visit to Bad Axe Tools in November and the conversation it sparked about saws in mid-18th Century Parisian workshops, both Mark Harrell and I were noodling the concept of interpreting those saws for contemporary craftsmen.  I think we arrived at the same point more-or-less simultaneously, and I suggested the need for exploring bow saw prototypes based on the saw plate for the Bad Axe one-man Roubo-esque frame saws.  Mark bit and expressed immediate support.  By "support" I mean that he would provide me with some saw plates for me to try out the concept, and would fabricate custom specified plates for me to experiment with.
***A note about such a collaboration: I gladly share my knowledge and curiosities with anyone interested in pursuing the same paths I am on.  I've made available all the observations, opinions, and documentation I have, including detailed photographs of my own vintage saws, to anyone who asked.  In that regard I am not showing any preference for Bad Axe, they were simply the folks who asked me to engage in this exploration.***
Since I already had a Bad Axe frame saw and thus the dimensions of their standard saw plate I was able to begin fabricating a bow saw as close to Roubo's as possible, or at least as close as I could guess.  I grabbed the saw plate, some of the ultra dense 5/4 white oak from my stash (left over from making the Studley bench top replica for the exhibit), and got to work.
The results were instructive.