The Spring of 2014 was a hectic time as we were trying to get moved from the house in Maryland in order to take up full time residence in the holler by the barn.  We found ourselves taking frequent overnight and even out-and-back trips with the truck loaded with possessions to relocate.  The pace of these trips meant that at times we would swoop in, unload, and leave.  Well, in this one particular day we were just walking around for a minute before jumping back in the truck and heading to Mordor on the Potomac.
As I rounded the root cellar/garden shed I was struck by something in the corner of my eye that didn't look quite right.  On closer examination my heart sank, as the catastrophic damage to the building was readily apparent.   A look underneath from inside the root cellar confirmed that decades of frost heave and the spring snow melt caused one wall of the root cellar to collapse with a couple of tons of debris scattered about inside.
With zero time available I departed for home and called my pal Tony to ask him to take a peek at the problem and offer some counsel.  Tony is a local contractor and amazingly inventive guy.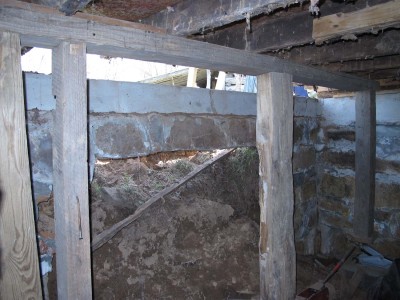 He reported back a couple days later that he had shored up the building with some of the timbers in my lumber storage and hydraulic jacks from the barn.  That would hold stasis until we decided what to do next, which I will recount in the next blog post.