One of the dominant aesthetics in the interior design world of my early days in the furniture trade in Palm Beach County, Florida, was the lightening or even whitening of wood furniture and paneling, presumably to reflect the bright sunniness that was numbingly constant outside, especially in the winter when those with the financial means escaped the cold, grim climes of (mostly) New England.  This was manifest in what decorators called "pickled" finishes for wood surfaces.  During my recent luncheon presentation in Palm Beach, one of the topics my hosts requested was to address this one.
Traditionally this was applied over either oak or cypress, and I recall finishing what seemed to be acres of it.  In fact the "whitening" of these woods was accomplished by two unrelated techniques.
One technique involves the deposition of white material into the grain of the wood, and the other requires the deposition of a thin uniform layer of white translucence over the entire surface.  Though I executed both techniques on both oak and cypress, you will see from the results that one technique worked well for one wood, and the other, the other.
"Liming" of wood requires the deposition of, well, lime onto the wood, or more precisely, into the wood.  In these samples I planed and scraped the panels, then lightly scrubbed them with a brass brush to wallow out the grain.  In the case of oak, it resulted in the emphasis of the ring-porous nature of the wood, while with the cypress it created a muddy, unremarkable effect.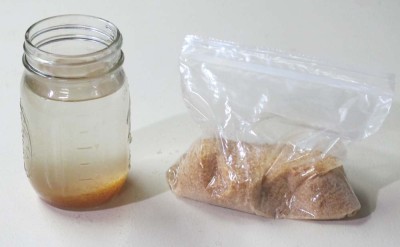 Once the surface was ready I took some hydrated lime from the hardware store and prepared some very lean gesso from the lime, water, and about 2-3% 315 gws glue.  I first soaked overnight and cooked the glue in the water, then added powdered lime to the desired consistency.
This was brushed onto the surface, making sure to work it down into the grain, and allowed to dry completely.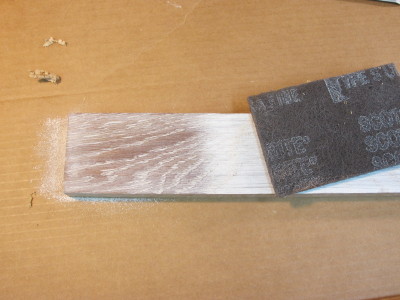 Since the gesso was very lean, I was able to remove the excess gesso, that is the gesso not down in the grain, with an abrasive pad rather than the coarse burlap of days gone by.
Following that I applied a single coating of paste wax, and when that was hard I buffed it with a piece of clean cloth.  This is a nerve wracking step the first time you do it as the paste wax saturates the lime deposit, making it disappear.  Never fear, as the solvent in the paste wax flashes off, the white will slowly emerge again.  The effect in oak is dramatic.

For cypress, the presentation is fairly undistinguished.
Fortunately, there is a technique that works wonderfully on cypress.
Stay tuned.