A week ago at this time the Lie-Nielsen Tool event at Braxton Brewing in Covington KY was just about over.  I was able to spend some time on Friday afternoon after clearing out of the video studio for Popular Woodworking, then again Saturday afternoon.  Saturday morning I had taken advantage of the relaxed schedule and proximity to population centers to sleep late, have a great omelet for breakfast, and go to a good art store to purchase some supplies.
The setting for the Lie-Nielsen event was nirvana for many woodworkers; perhaps some of the finest tools in the woodworking universe and craft brewed beers in the same place.  Not being a beer drinker some of the  setting was lost on me.  I did have my first bottle of soda in more than three years, though.  Orange Nehi.  Ahhhhh.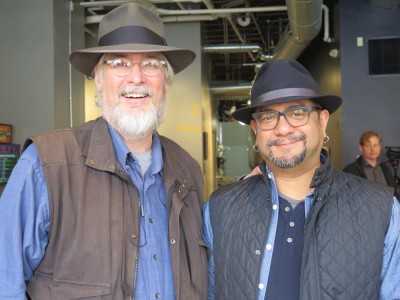 It was great to renew old friendships and acquaintances and make new ones.  There is no doubt that my Virtuoso collaborator Narayan and I were the coolest dudes there in our fabulous Optimo hats.  Nobody else came close.
In addition to the crew from LNT and their entire line of tool opiates, another half dozen or more superb tool makers were in the house, along with the Lost Art Press guys and a rotating roster from Popular Woodworking.  The Brewery was set up with a large-ish space off to the left once you entered, with another sizable alcove at the center rear.
Chris Kuehn of Sterling Tools was in the immediate line of sight once you entered into the facility.  Of course we chatted but it seemed like every time I looked Chris was surrounded by questioners and customers.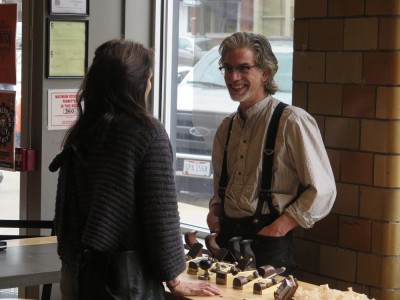 Physically closest to the entrance was a maker of superb planes I was unfamiliar with, was Mateo Panziea of Lazarus Planes in nearby Louisville.  Reatively new to the full-time world of toolmaking Mateo has a broad background of craftsmanship, including a stint in the art conservation world from whence I emerged.  His planes were robust and excellent quality, and I came this close to pulling the trigger on a small low angled smoother that would have been perfect for finishing up parquetry and marquetry panels.  Once again I am struck by "not buyer's" remorse.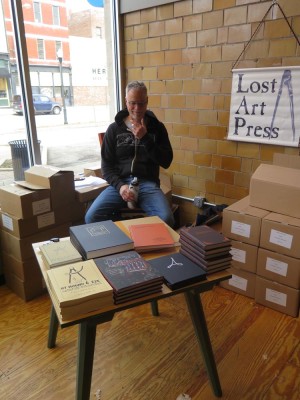 Next to Matteo, in the corner, were John Hoffman and Chris Schwarz of Lost Art Press.  It was a big weekend for them as it was the official release of Chris' new Anarchist Design Book (I do not particularly care for the whole anarchist theme as Chris uses the word close to properly but 99% of the populace does not).  Not surprisingly with two new offerings they were doing a good business.
Moving around the front space we come to the workbench shared by the nonpareil plane makers Konrad Sauer from up in that there Canada, near Toronto, and Raney Nelson from the equally exotic Indianapolis area.  Their tools set the standard for the new wave of woodworking toolmakers, and I am happy to report that increasingly their compatriots in competition are picking up the gauntlet.
The PopWood table served as a transition from the  front space to the rear space, filled in great part by the LNT inventory with demo space for Daneb and the crew and all the visitors to try out all the tools.  And they were!
Along the back wall were the stations for the SAPFM Ohio River Valley Chapter staffed by old friends of mine, and a workbench shared by Caleb James and Tod Herrli.  I do not yet own any of Caleb's planes, but do have some of Tod's (with more to be made for me, he is only awaiting me to send him the wood I want to be used for the plane bodies).
Turning the corner we find a couple of young tool makers, Walke-Moore, with whom I did not have time for conversation, but again their table seemed to be mobbed.
Next came perhaps the most pleasant surprise of the weekend as wooden body plane maker Steve Voight was showing his wares, and they were excellent.  But that was not the surprise as it turns out that Steve, a composer by day and plane maker by night, lives fairly nearby.  We plan to get together as often as possible.
The final station of the tour belonged to Scott Meek, wooden bodied plane maker whose aesthetic vocabulary is all his own.  It was a delight to see Steve Voight, working in  very traditional style, alongside Scott whose work is definitely not but yet magnificent in its own high-performance sleek and streamlined way.  Somehow I fails to get an image of him and his planes.  Sorry Scott.
As the festivities at the brewery wound down I walked with Brad D, one of the original Fellowship of the French Oak Roubo Bench members, down to the new LAP World Headquarters for the evening's festivities.