In the closing months of 2012, as I was approaching departure from the Smithsonian's Museum Conservation Institute after almost three decades, my major project was the conservation of an ornately carved monumental picture frame.  By monumental I am not talking about merely big, I am referring to an assemblage weighing just under 3/4 ton and standing eighteen feet high!  In form the frame is akin conceptually to a Federal-style shaving mirror that you might find on top of a dresser.
Over the past two weeks I have gone back in to my former work place to finish off the project, which had been sitting idle for the past eleven months.
The main focus for my days of work has been the carving of missing elements and the completion of the presentation surface.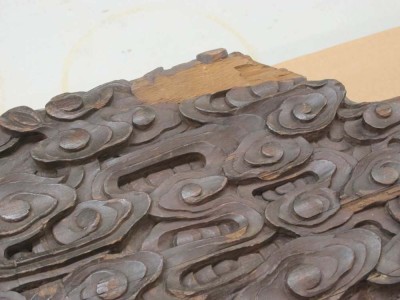 One corner of one of the bases was pretty much gone, so I had to graft in a chunk of cotton wood and EVA filling adhesive (a general process I published in this paper) and get out the carving chisels.  While we did not conduct scientific wood analysis on the frame, the character of the wood suggests it was fabricated from paulownia or something very similar, so my options for grafting in new material to carve resided in the cottonwood-paulownia-tulip poplar nexus.
Since the loss was enough that I was uncertain of the design element, I had to make it up as best I could.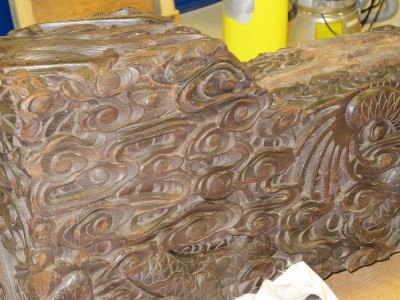 The final result was not displeasing.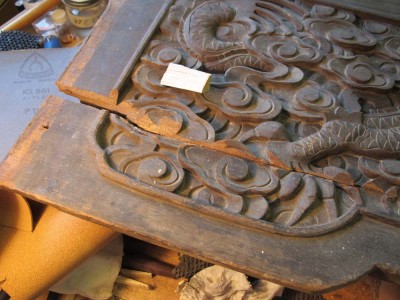 Other areas, mostly opened splits, needed to be filled and carved as well.  Some of this had started a year ago, but was not yet done.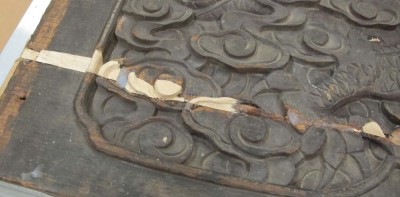 Again, I used cottonwood as the primary wood fill material with gap-filling, flexible but carveable EVA as my adhesive.
Once all the carving was complete I lightly toned the new wood with gouache then sealed the entire area with Mel's Wax followed by pigmented paste wax to provide a unified appearance.
When the frame components arrived in the furniture conservation studio more than a year ago the first task was to assess the pieces and begin to clean every square millimeter of surface. Since the surface was sensitive to most cleaning methods we wound up rolling Groomstick — an archival, specially formulated non-sticking putty used for cleaning sensitive artifacts — over the entire ornately carved surface, a process that took over a dozen volunteer interns more than three months.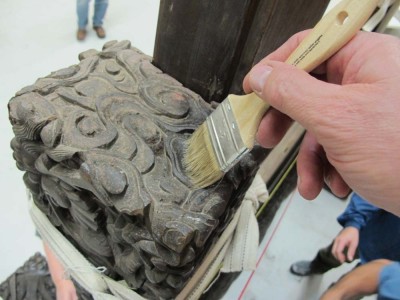 Once cleaned, since the surface was sensitive to most of the typical coating systems we might use in treatment, I determined a protocol that worked magnificently: a light application of Mel's Wax (a high-performance, easy-to-use archival furniture maintenance coating invented by my colleague in the studio — production of this product has begun and it will be available from me very shortly) to provide a stable, high-performance, easy-to-remove foundation sealant.
This was followed by a "dry brush" application of pigmented paste wax, essentially a formulation I derived based on shoe polish technology.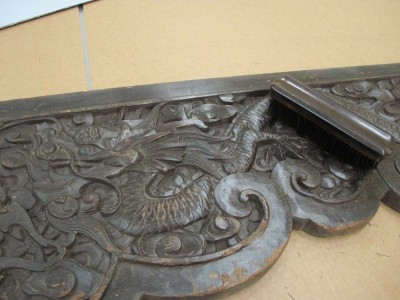 This area has been partially completed, with the right side having been buffed with a shoe polishing brush after the pigmented paste wax was completely dry.  I made no attempt to disguise every single scrape and loss on the surface, it was an old and well-worn artifact, and its nature is readily evident.
So yeah, "shoe polish" saved the day in creating a homogenous presentation of the frame, into which the gigantic painting will be installed fairly soon.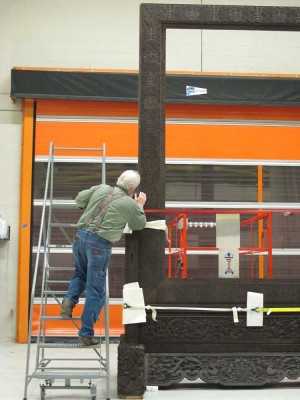 Next time I will describe the quadruple dovetail locking corner cleats I designed anf fabricated to lock the double mortised mitered corners in place, so that the frame configuration matched precisely that of the painting.