To tell you the truth I don't really care what you were doing this time last year.  I only wanted to spark my own reminiscences of being in the midst of three weeks of 14-hours days as I was fulfilling the dream going back almost thirty years — creating the definitive exhibit and book addressing the Tool Cabinet and Workbench of Henry O. Studley, piano maker of Quincy, Mass.
The exhibit was the culmination of several years of diligent work, and looking back on it I can honestly say that there was nothing about the physical manifestation of the experience that I would change.  Not a single thing.  It looked exactly as I envisioned it from the beginning.
I got to greet and chat with more than a thousand fellow Studley enthusiasts, even if I did not recall precisely all of our conversations.

Some time after the exhibit I was corresponding with one of the Handworks exhibitors about the special reception I held for them the evening before the exhibit opened.  In our exchange I apologized for not greeting him at that event.  He replied that we actually talked for quite a while. Oh well.
I guess that is one thing I might change if I could.  Make time slow down so I could savor the moment even more than I did.  By the end I was, in the words on my pal MikeM, "Pond scum."
I didn't "close the books" on the project until we did our taxes last winter.  When Mrs. Barn learned the numbers, she just grimaced and said, "Well, you were going to do it anyway, weren't you?"
"Yes, I was," I replied.  "I couldn't not do it."  Not for anything short of personal tragedy.
There is another set of books for The Studley Exhibit and the accompanying Virtuoso that will never close as long as I have breath.  That set of books is the one from my heart, as I reflect with quiet joy on the contacts and friendships that flourished in the maelstrom.
Of working with Chris and John at Lost Art Press, whose support never wavered.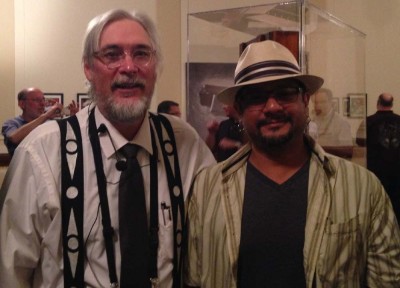 Of my collaborator Narayan Nayar, whom I am honored to count as a treasured friend.  (I remember Chris' comment when I told him I wanted to approach Narayan to execute the primary photography for the book.  "There's nobody better," he said, "but you will probably want to kill him before it is all done!"  I didn't.)
Of getting to befriend Studley Collection owner Mister Stewart, a delightful, brilliant, and humble fellow who is among the most creative and successful men I have ever met, yet still comes to work almost every day in blue jeans and a t-shirt and still plays hockey as he approaches his eighth decade.  We remain in contact to this day, as we'll call or write each other about a variety of subjects.  He recently called me to ask something about shellac.  How cool is that?
Of our gracious and accommodating host Mr. Heath, steward of the Cedar Rapids Scottish Rite Temple, whose company and excitement for the project was a constant source of encouragement.
Of friends like WilliamD who valiantly defended my vision for the exhibit in the woodworking blogosphere against the angry postings railing against what I was trying to do with the exhibit experience, often stating with absolute certainty that I was simply a profiteer gouging the audience.  I did not know about these on-line exchanges until after the fact, I was to busy being productive, but thank you William for standing up to the ignoranti of the woodworking forums.  It did confirm my reticence about participating in them.  I simply do not have enough IQ to risk losing any of it.  (It's sorta like eating breakfast in the motel lobby where the Today Show or Good Morning America or Oprah or Maury or some other abomination is on the television — I can feel myself getting more stupid and ignorant by the minute.)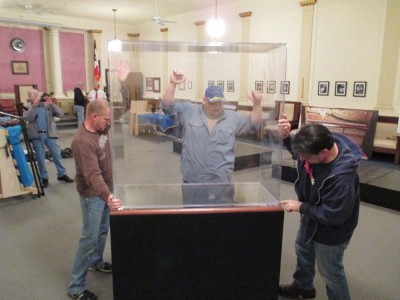 Of friends old and new, one friendship of more than thirty years, a couple newly minted and the rest in between, who came as volunteer docents and hands for the installation, interpretation, and deinstallation of the exhibit.
Think about that, almost a dozen people came on their own time at their own expense simply to support me personally and be part of a memorable and historic event.  Now that is a treasure you hide in your heart.
Rick Bean, Jan Bohn, Randy Bohn, John Hurn, Mike Mavodones, Mike Mascelli, Derek Olsen, Rick Parker, Sharon Que, Bill Robillard, Sean Thomas.  These are the names to remember, and I do.  I correspond or speak to each of them regularly even now.
Of cherishing the presence of my wife and daughters at experiencing the pinnacle of a career.
It does not get much better than that!
That's what I was doing this time last year, having the time of my life.  I just wish I could recall the details a bit better…  Some year it will be time to let those memories recede into the vapors.
But not this year.  After all, it was unforgettable!