Last year I was contacted by a client who asked me to reproduce a c.1820 mahogany desk, entirely (or at least as much as was practicable) using the craft technology of the time period, and for the past several months I've been working on it.  I will blog in greater depth about the project, but recently I have begun to turn several spindles integral to the piece.
Since I did not have access to the original I used photogrammetry to ascertain the dimensions.  While I am told that programs such as SketchUp have this utility, I do not have enough interest in it to learn it.  Instead I use my Old Faithful program, CorelDraw 9.  I've been using CorelDraw since version 2 and it serves my needs just fine.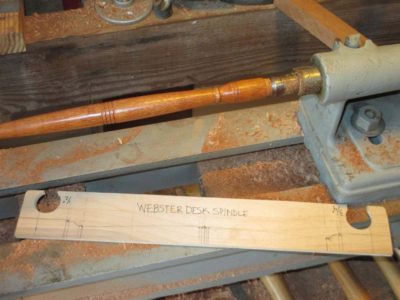 Importing an image into CorelDraw and then resizing it to fit some "known" dimensions available on-line I derived the patterns for the project, including the templates for the spindles.  With the dimensions and profile established I made this story board to keep a the lathe, and included the two main caliper measurements so I could easily and quickly judge the progress and end point.  Using it I fired up the lathe, to judge my ability to get back to work (the hand and wrist are still pretty stiff) and also to get a sense of the wood I was using and the fit of the turning chisels I had on-hand.  (I know you will be SHOCKED to learn I decided to purchase four more scrapers and purchase tool steel to make another half dozen if necessary).  Since this was a practice exercise I was simply trying some things out, I know it does not mimic the original exactly but I did learn what I needed to know to proceed.
The mahogany turns like a dream; it is very old swietenia I obtained specifically for this project, I think it wa milled around 1900 or so.  Once finished with the chisels I touched the surface lightly with sandpaper, then went at it with a wax-impregnated polissoir.  I was pleased with the result, but not the picture.  A new camera is in the works.